irector disqualified for 'front operation
31st january 2013
Page 12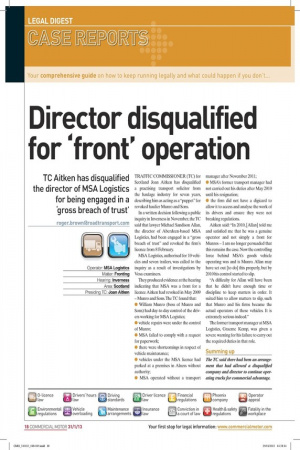 Page 12, 31st january 2013 —
irector disqualified for 'front operation
Close
TC Aitken has disqualified the director of MSA Logistics for being engaged in a 'gross breach of trust' roger.brownfaroadtransport.com TRAFFIC COMMISSIONER (TC) for Scotland Joan Aitken has disqualified a practising transport solicitor from the haulage industry for seven years, describing him as acting as a "puppet" for revoked haulier Munro and Sons.
In a written decision following a public inquiry in Inverness in November, the TC said that lawyer Michael Sandison Allan, the director of Aberdeen-based MSA Logistics, had been engaged in a "gross breach of trust" and revoked the firm's licence from 8 February.
MSA Logistics, authorised for 10 vehicles and seven trailers, was called to the inquiry as a result of investigations by Vosa examiners.
They produced evidence at the hearing indicating that MSA was a front for a licence Aitken had revoked in May 2009 — Munro and Sons. The TC found that: • William Munro (boss of Munro and Sons) had day-to-day control of the drivers working for MSA Logistics; • vehicle repairs were under the control of Munro; • MSA failed to comply with a request for paperwork; • there were shortcomings in respect of vehicle maintenance; • vehicles under the MSA licence had parked at a premises in Alness without authority; • MSA operated without a transport manager after November 2011; • MSA's former transport manager had not carried out his duties after May 2010 until his resignation; • the firm did not have a digicard to allow it to access and analyse the work of its drivers and ensure they were not breaking regulations.
Aitken said: "In 2010, [Allan] told me and satisfied me that he was a genuine operator and not simply a front for Munros — I am no longer persuaded that this remains the case. Now the controlling force behind MSA's goods vehicle operating was and is Munro Allan may have set out [to do] this properly, but by 2010 his control started to slip.
"A difficulty for Allan will have been that he didn't have enough time or discipline to keep matters in order. It suited him to allow matters to slip, such that Munro and his firms became the actual operators of these vehicles. It is extremely serious indeed."
The former transport manager at MSA Logistics, Graeme Kemp, was given a severe warning for his failure to carry out the required duties in that role.
Summing up The TC said there had been an arrangement that had allowed a disqualified company and director to continue operating trucks for commercial advantage.