Tarmac wants CCTV to make sites safer
31st January 2002
Page 8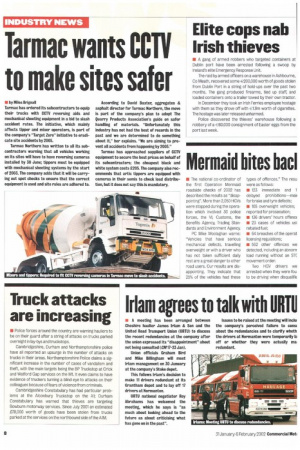 Page 8, 31st January 2002 —
Tarmac wants CCTV to make sites safer
Close
by Miles Brignall Tarmac has ordered its subcontractors to equip their trucks with CCTV reversing aids and mechanical sheeting equipment in a bid to slash accident rates. The initiative, which mainly affects tipper and mixer operators, is part of the company's "Target Zero" initiative to eradicate site accidents by 2005.
Tarmac Northern has written to all its subcontractors warning that all vehicles working on its sites will have to have reversing cameras installed by 30 June; tippers must be equipped with mechanical sheeting systems by the start of 2003. The company adds that it will be carrying out spot checks to ensure that the correct equipment is used and site rules are adhered to, According to David Baxter, aggregates & asphalt director for Tarmac Northern, the move is part of the company's plan to adopt The Quarry Products Association's guide on safer handling of materials. "Unfortunately this industry has not had the best of records in the past and we are determined to do something about it," her explains. "We are aiming to prevent all accidents from happening by 2005".
Tarmac has approached suppliers of CCTV equipment to secure the best prices on behalf of its subcontractors; the cheapest black and white system costs £205. The company also recommends that artic tippers are equipped with cameras in their semis to check load distribution, but it does not say this is mandatory.