Veil Driven? Drivers say yes...
31st January 2002
Page 7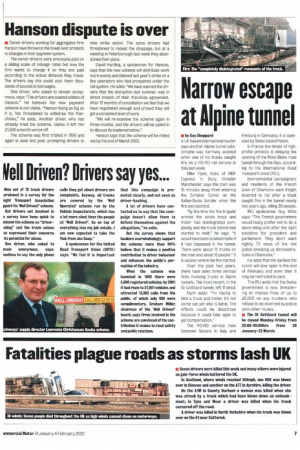 Page 7, 31st January 2002 —
Veil Driven? Drivers say yes...
Close
Nine out o' 10 truck drivers :erviewed in a survey for the eight Transport Association port its 'Well Driven! scheme. But drivers not involved in e survey have been quick to ndemn the scheme as "drivershing" and the trade unions ye expressed their concerns its potential for abuse.
One driver, who asked to main anonymous, says: eedless to say the only phone
calls they get about drivers are complaints. Anyway, all trucks are covered by the 'Well Operated' scheme run by the Vehicle Inspectorate, which has a lot more clout than the people at 'Well Driven?'. So on top of everything else my job entails, I am now expected to take the flak from Joe Soap."
A spokesman for the United Road Transport Union (UM) says: "We feel it is important
that this campaign is promoted clearly, and not seen as driver-bashing.
A lot of drivers have contacted us to say that the campaign doesn't allow them to defend themselves against the allegations," he adds.
But the survey shows that hauliers overwhelmingly support the scheme: more than 90% believe that it makes a positive contribution to driver behaviour and enhances the public's perception of the industry.
When the scheme was launched in 1996 there were 5,000 registered vehicles; by 2001 it had risen to 21,901 vehicles and attracted 13,962 calls from the public, of which only 868 were complimentary. Graham Miller. chairman of the 'Well Driven?' board, says firms involved in the scheme are convinced of the contribution it makes to road safety and public relations.