Narrow escape at Alpine tunnel
31st January 2002
Page 7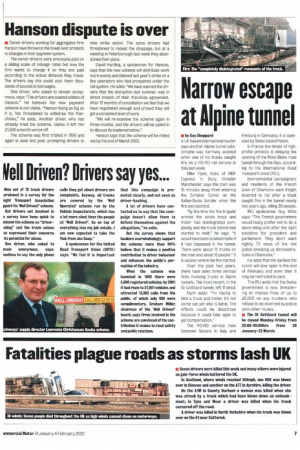 Page 7, 31st January 2002 —
Narrow escape at Alpine tunnel
Close
Keywords :
Rail Transport In Switzerland
,
Valais
,
Rail Transport
,
Transport In Europe
,
Simplon Tunnel
,
Tunnel
,
Chamonix
,
Uri
,
Europe
,
Disaster / Accident
,
War / Conflict
• by Guy Sheppard A UK-based international haulier says another Alpine tunnel catastrophe was narrowly avoided when one of his trucks caught fire on a RO-RO rail service in Italy last week.
Mike Flynn, boss of MBF Express in Bury, Greater Manchester, says the train was 15 minutes away from entering the Simplon Tunnel on the Italian-Swiss border when the fire was spotted.
"By the time the fire brigade arrived the whole truck and trailer had disintegrated completely and the truck behind had started to melt," he says. "It would have been a catastrophe if it had happened in the tunnel. There were about 13 trucks on the train and about 16 people." It is unclear where the fire started.
Over the past two years, there have been three serious fires involving trucks in Alpine tunnels. The most recent, in the St Gotthard tunnel, left 11 dead.
Flynn adds: "l'm having to hire a truck and trailer. It's not come out yet who is liable. The effects could be disastrous because it could take ages to get compensation."
The AG-RD service runs between Novara in Italy and
Freiburg in Germany; it is operated by Swiss-based Ralpin.
In France the threat of highprofile protests is delaying the opening of the Mont Blanc road tunnel through the Alps, according to the International Road Transport Union (IRU), Environmental campaigners and residents of the French town of Chamonix want freight diverted to rail after a truck caught fire in the tunnel nearly two years ago, killing 39 people.
IRU spokesman Guy Willis says: "The French government would really prefer not to do a damn thing until after the April elections for president and parliament. They don't want nightly TV news of the riot police breaking up demonstrations in Chamonix."
He adds that the earliest the tunnel will now open is the end of February and even then it may be restricted to cars.
The IRU adds that the Swiss government is now threatening to impose fines of up to £2,000 on any truckers who refuse to be diverted by police onto other routes.
• The St Gotthard tunnel will be closed Monday-Friday from 22:00-05:00hrs from 28 January-22 March.