Hanson dispute is over
31st January 2002
Page 7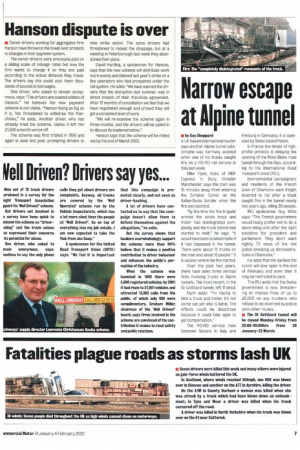 Page 7, 31st January 2002 —
Hanson dispute is over
Close
• Owner-drivers working for aggregates firm Hanson have thrown in the towel over protests to changes in their payment system.
The owner-drivers were previously paid on a sliding scale of mileage rates but now the firm wants to change it so they are paid according to the actual distance they travel. The drivers say this could cost them thousands of pounds in lost wages.
One driver, who asked to remain anonymous, says: "The drivers are scared witless of Hanson." He believes the new payment scheme is not viable. "Hanson being as big as it is, has threatened to withdraw the franchises," he adds. Another driver, who has already tried the scheme, claims it left him £1,600 a month worse off The scheme was first trialled in 1909 and again in June last year, prompting drivers to take strike action. The same drivers had threatened to repeat the stoppage, but at a meeting in Peterborough last week they abandoned their plans.
David Harding, a spokesman for Hanson, says that the new scheme will distribute work more evenly and blamed last year's strike on a few operators who had prospered under the old system. He adds: "We have warned the drivers that the disruption last summer was in direct breach of their franchise agreement. After 12 months of consultation we feel that we have negotiated enough and proved they will get a consistent level of work.
We will re-examine the scheme again in three months, and the drivers will be called in to discuss its implementation."
Hanson says that the scheme will be rolled out by the end of March 2002.