F ar too many operators seem to regard penny-pinching as a
31st January 2002
Page 43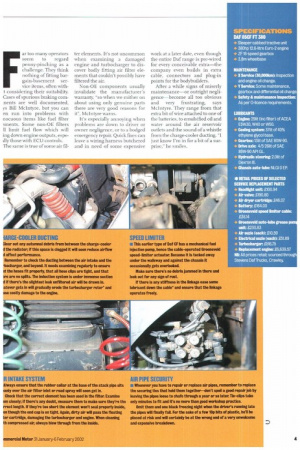 Page 43, 31st January 2002 —
F ar too many operators seem to regard penny-pinching as a
Close
challenge. They think nothing of fitting bargain-basement service items, often withconsidering their suitability. Cases of spurious braking cornnents are well documented, ys Bill McIntyre, but you can en run into problems with nocuous items like fuel filter iments. Some non-OE filters 11 limit fuel flow which will ing down engine outputs, es pedly those with ECU controls. The same is true of some air fil
ter elements. It's not uncommon when examining a damaged engine and turbocharger to discover badly fitting air filter elements that couldn't possibly have filtered the air, Non-OE components usually invalidate the manufacturer's warranty, "so when we mither on about using only genuine parts there are very good reasons for it", McIntyre warns.
It's especially annoying when problems are down to driver or owner negligence, or to a bodged emergency repair. Quick fixes can leave a wiring harness butchered and in need of some expensive work at a later date, even though the entire Da f range is pre-wired for every conceivable extra—the company even builds in extra cable, connectors and plug-in points for the bodybuilders.
After a while signs of miserly maintenance—or outright negligence—become all too obvious and very frustrating, says McIntyre. They range from that extra bit of wire attached to one of the batteries, to emulsified oil and water around the air reservoir outlets and the sound of a whistle from the charge-cooler ducting. 'I just know I'm in for a bit of a surprise," he smiles.