USED: TRACTORS
31st January 2002
Page 32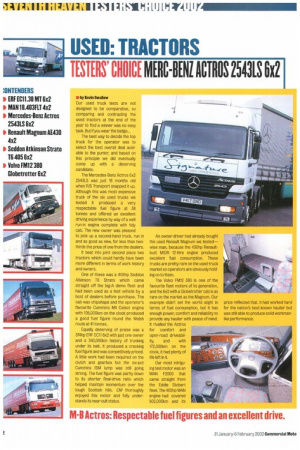 Page 32, 31st January 2002 —
USED: TRACTORS
Close
TESTERS'CIMICEMERC-BENIACTROS25431.5 6)(11
• by Kevin Swallow
Our used truck tests are not designed to be comparative, so comparing and contrasting the used tractors at the end of the year to find a winner was no easy task. But if you wear the badge...
The best way to decide the top truck for the operator was to select the best overall deal available to the punter, and based on I this principle we did eventually come up with a deserving candidate. 5.
The Mercedes-Benz Actros 6x2 2543LS was just 18 months old
when PJS Transport snapped it up.
Although this was most expensive truck of the six used trucks we tested it produced a very respectable fuel figure at 38 tonnes and offered an excellent driving experience by way of a well run-in engine complete with tidy cab. The new owner was pleased to pick up a second-hand truck, run in and as good as new, for less than twothirds the price of one from the dealers.
It beat into joint second place two tractors which could hardly have been more different in terms of work history and owners.
One of these was a 405hp Seddon Atkinson 16 Strata which came straight off the big-A demo fleet and had been used as a test vehicle by a host of dealers before purchase. The cab was shipshape and the operator's favourite Cummins MII Celect engine with 105,000km on the clock produced a good fuel figure round the Welsh route at 41 tonnes.
Equally deserving of praise was a 374hp ERF EC11 6x2 with just one owner and a 340,000km history of trunking under its belt. It produced a cracking fuel figure and was competitively priced. A little work had been required on the clutch and gearbox but the six-pot Cummins ISM lump was still going strong. The fuel figure was partly down to its shorter final-drive ratio which helped maintain momentum over the tough Scottish hills. CM thoroughly enjoyed this motor and fully understands its near-cult status. An owner-driver had already bought the used Renault Magnum we tested— wise man, because the 430hp Renaultbuilt MIDR 12-litre engine produced excellent fuel consumption. These trucks are pretty rare on the used-truck market so operators are obviously holding on to them.
The Volvo FM12 380 is one of the favourite fleet motors of its generation, and the 6x2 with a Globetrotter cab is as rare on the market as the Magnum. Our example didn't set the world alight in terms of fuel consumption, but it has enough power, comfort and reliability to provide any haulier with peace of mind. It rivalled the Actros for comfort and open-road driveabil ity, and with 172,000km on the clock, it had plenty of life left in it.
Our most intriguing test motor was an MAN F2000 that came straight from the Eddie Stobart fleet. The 405hp MAN engine had covered 502,000km and its price reflected that. It had worked hard for the nation's best-known haulier but was still able to produce solid workmanlike performance.