USED: RIGIDS TESTERS' CHOICE RENAULT PREMIUM 2101 4x1
31st January 2002
Page 31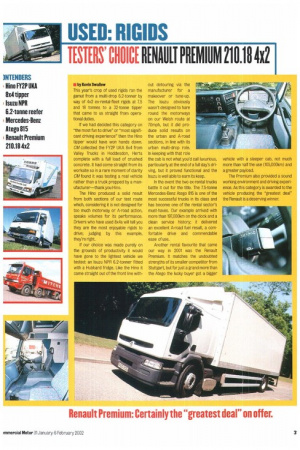 Page 31, 31st January 2002 —
USED: RIGIDS TESTERS' CHOICE RENAULT PREMIUM 2101 4x1
Close
• by Kevin Swallow
This year's crop of used rigids ran the gamut from a multi-drop 6.2-tonner by way of 4x2 ex-rental-fleet rigids at 7.5 and 18 tonnes to a 32-tonne tipper that came to us straight from operational duties.
If we had decided this category on "the most fun to drive or "most significant driving experience" then the Hino tipper would have won hands down. CM collected the FY2P UKA 8x4 from Valley Trucks in Hoddesdon, Herts complete with a full load of crushed concrete. It had come straight from its worksite so in a rare moment of clarity CM found it was testing a real vehicle rather than a truck prepped by a manufacturer—thank you Hino.
The Hino produced a solid result from both sections of our test route which, considering it is not designed for too much motorway or A-road action, speaks volumes for its performance. Drivers who have used 8x4s will tell you they are the most enjoyable rigids to drive; judging by this example, they're right.
If our choice was made purely on the grounds of productivity it would have gone to the lightest vehicle we tested: an !sun NPR 6.2-tonner fitted with a Hubbard fridge. Like the lino it came straight out of the front line with out detouring via the manufacturer for a makeover or tune-up. The Isuzu obviously wasn't designed to hare round the motorways on our Welsh route at 70mph, but it did produce solid results on the urban and A-road sections, in line with its urban multi-drop role. In keeping with that role the cab is not what you'd call luxurious, particularly at the end of a full day's driving, but it proved functional and the Isuzu is well able to earn its keep.
In the event the two ex-rental trucks battle it out for the title. The 7.5-tonne Mercedes-Benz Atego 815 is one of the most successful trucks in its class and has become one of the rental sector's must-haves. Our example arrived with more than 197,000km on the clock and a clean service history; it delivered an excellent A-road fuel result, a comfortable drive and commendable ease of use.
Another rental favourite that came our way in 2001 was the Renault Premium. It matches the undoubted strengths of its smaller competitor from Stuttgart, but for just a grand more than the Atego the lucky buyer got a bigger vehicle with a sleeper cab, not much more than '10 the use (106,000km) and a greater payload.
The Premium also provided a sound working environment and driving experience. As tilts category is awarded to the vehicle producing the "greatest deal" the Renault is a deserving winner.