3.5t CHASSIS-CABS TESTERS' CHOICE FORD TRANSIT 3E0 1.11 INSIDE 1
31st January 2002
Page 28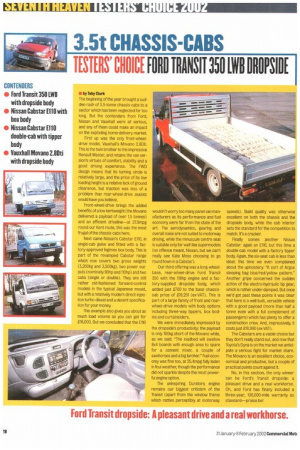 Page 28, 31st January 2002 —
3.5t CHASSIS-CABS TESTERS' CHOICE FORD TRANSIT 3E0 1.11 INSIDE 1
Close
• by Toby Clark
The beginning of the year brought a sudden rash of 3.5-tonne chassis-cabs to a sector which has been neglected for too long. But the contenders from Ford, Nissan and Vauxhall were all serious, and any of them could make an impact on the exploding home-delivery market.
First up was the only front-wheeldrive model, Vauxhall's Movano 2.8Dti. This is the twin brother to the impressive Renault Master, and retains the van version's virtues of comfort, stability and a good driving experience. The FWD design means that its turning circle is relatively large, and the price of its low loading height is a relative lack of ground clearance, but traction was less of a problem than rear-wheel-drive zealots would have you believe.
Front-wheel-drive brings the added benefits of a low kerbweight (the Movano delivered a payload of over 1.5 tonnes) and an efficient driveline—at 27.9mpg round our Kent route, this was the most frugal of the chassis-cabs here.
Next came Nissan's Cabstar E110, in single-cab guise and fitted with a factory-approved Ingimex box body. This is part of the revamped Cabstar range which now covers two gross weights (3,200kg and 3,500kg), two power outputs (nominally 90hp and 110hp) and two cabs ( single or double). They are still rather old-fashioned forward-control models in the typical Japanese mould, but with a relatively modern direct-injection turbo-diesel and a decent specification for your money.
This example also gives you about as much load volume as you can get for 218,000. But we concluded that the E110 wouldn't worry too many panel van manufacturers as its performance and fuel economy were far from the state of the art. The aerodynamics, gearing and overall noise are not suited to motorway driving, while the minuscule centre seat is suitable only for waif-like supermodels (no offence meant, Nissan, but we can't really see Kate Moss choosing to go round town in a Cabstar).
Our third offering was a long-wheelbase, rear-wheel-drive Ford Transit 350 with the 118hp engine and a factory-supplied dropside body, which added just 2700 to the base chassiscab price of 119,251 (ex-VAT). This is part of a large family of front and rearwheel-drive models with body options including three-way tippers, box bodies and curtainsiders.
We were immediately impressed by the dropside's productivity: the payload is only iookg short of the Movano while, as we said: "The loadbed will swallow 8x4 boards with enough area to spare for a cement mixer, a couple of sawhorses and a big lurcher." Fuel economy was fine too, at 25.4mpg fully laden in foul weather, though the performance did not sparkle despite the most powerful engine option.
The uninspiring Duratorq engine remains our biggest criticism of the Transit (apart from the window frame which rattles perceptibly at motorway speeds). Build quality was otherwise excellent on both the chassis and the dropside body, while the cab interior sets the standard for the competition to match. It's a cracker.
Finally comes another Nissan Cabstar: again an E110, but this time a double-cab model with a factory tipper body. Again, the six-seat cab is less than ideal; this time we even complained about the upholstery: "A sort of Argos sleeping bag blue/red/yellow pattern." Another gripe concerned the sudden action of the eiectro-hydraulic tip gear, which is rather under-damped. But once we'd got past these points it was clear that here is a well-built, versatile vehicle with a good payload (more than half a tonne even with a full complement of passengers) which has plenty to offer a construction crew. And, Impressively, it costs just 118,990 (ex-VAT).
The Cabstars are a viable choice but they don't really stand out, and now that Toyota's Dyna is on the market we anticipate a serious fight for market share. The Movano is an excellent choice, economical and productive, but a couple of practical points count against it.
No, in this section, the only winner can be Ford's Transit dropside: a pleasant drive and a real workhorse. Oh, and Ford has finally included a three-year, 100,000-mile warranty as standard—praise be!