ESTERS' CHO CE 2002
31st January 2002
Page 25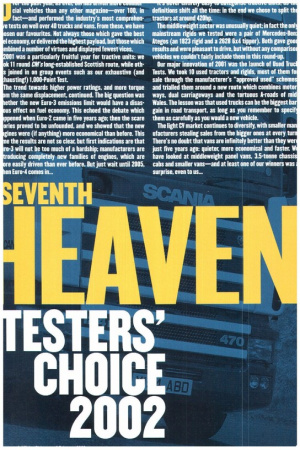 Page 25, 31st January 2002 —
ESTERS' CHO CE 2002
Close
cial vehicles than any other magazine—over 100, in fact—and performed the industry's most comprehene tests on well over 40 trucks and vans. From these, we have men our favourites. Not always those which gave the best I economy, or delivered the highest payload, but those which mbined a number of virtues and displayed fewest vices.
001 was a particularly fruitful year for tractive units: we ok 11 round CM's long-established Scottish route, while oths joined in on group events such as our exhaustive (and haustingl) 1,000-Point Test.
The trend towards higher power ratings, and more torque m the same displacement, continued. The big question was ether the new Euro-3 emissions limit would have a disasus effect on fuel economy. This echoed the debate which ppened when Euro-2 came in five years ago; then the scare ones proved to be unfounded, and we showed that the new gines were (if anything) more economical than before. This e the results are not so clear, but first indications are that ro-3 will not be too much of a hardship; manufacturers are reducing completely new families of engines, which are re easily driven than ever before. But just wait until 2005, en Euro-4 comes in... definitions shift all the time: in the end we chose to split th tractors at around 420hp.
The middleweight sector was unusually quiet; in fact the onl mainstream rigids we tested were a pair of Mercedes-Ben Ategos (an 1823 rigid and a 2628 6x4 tipper). Both gave goo results and were pleasant to drive, but without any compariso vehicles we couldn't fairly include them in this round-up.
Our major innovation of 2001 was the launch of Used Truc Tests. We took 10 used tractors and rigid& most of them to sale through the manufacturer's "approved used" scheme and trialled them around a new route which combines motor ways, dual carriageways and the tortuous A-roads of mid Wales. The lesson was that used trucks can be the biggest bar gain in road transport, as long as you remember to specif them as carefully as you would a new vehicle.
The light CV market continues to diversify, with smaller man ufacturers stealing sales from the bigger ones at every tur There's no doubt that vans are infinitely better than they wer just five years age: quieter, more economical and faster. W have looked at middleweight panel vans, 3.5-tonne chassi cabs and smaller vans—and at least one of our winners was surprise, even to us...