By our Northern Correspondent, Eric Strongithartn, Oswaldtwistle.
31st January 2002
Page 22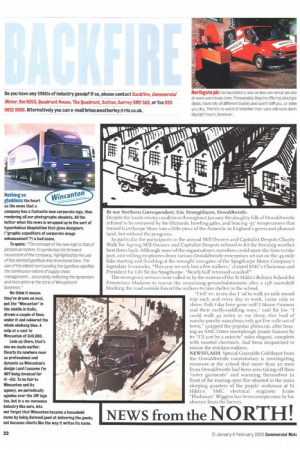 Page 22, 31st January 2002 —
By our Northern Correspondent, Eric Strongithartn, Oswaldtwistle.
Close
Despite the harsh wintry conditions throughout January the doughty folk of Oswaldtwistle refused to be overawed by the blizzards, howling gales, and bracing -35° temperatures that turned Cawthorpe Moor into a little piece of the Antarctic in England's green and pleasant land, but without the penguins.
In particular the participants in the annual Mill Owners and Capitalist Despots Charity Walk for Ageing Mill Owners and Capitalist Despots refused to let the freezing weather beat them back. Although none of the organisation's members could spare the time to take part, roo willing employees from various Oswaldtwistle enterprises set out on the 45-mile hike starting and finishing at the wrought iron gates of the Spagthorpe Motor Company's legendary Ironworks, This year we only lost a few walkers," chirped SMC's Chairman and President for Life Sir Jos Spagthorpe. "Nearly half returned unaided!"
The emergency services were called in by the matron of the St Hilda's Reform School for Precocious Madams to rescue the remaining perambulationists after a 15ft snowdrift blocking the road outside forced the walkers to take shelter in the school.
"I tell 'cc, in my day ['ad to walk 50-mile round trip each and every day to work, come rain or shine. Folk t'day have gone soft! I blame t'unions and their molly-coddling ways," said Sir Jos. "I could walk 45 miles in me sleep... this load of namby-pamby nancyboys only got five mile out of town," quipped the popular plutocrat, after hearing an SMC Oates snowplough (made famous by its "I'll just be a minute" sales slogan), complete with roasted chestnuts, had been despatched to rescue the stricken walkers.
NEWSFLASH: Special Constable Cobblepot from the Oswaldtwistle constabulary is investigating rumours at the school that more than 50 men from Oswaldtwistle had been seen taking off their "outer garments" and warming themselves in front of the roaring open fire situated in the main sleeping quarters of the pupils' outhouse at St Hilda's. SMC electrical engineer Ernie "Flashman" Wiggins has been conspicuous by his absence from the factory.