Clean up or get out of town!
31st January 2002
Page 12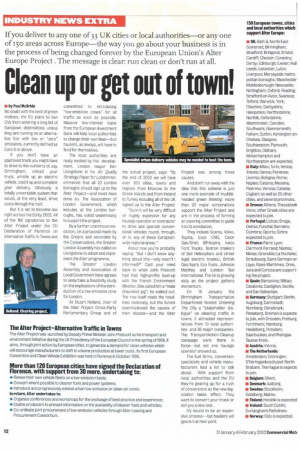 Page 12, 31st January 2002 —
Clean up or get out of town!
Close
If you deliver to any one of 33 UK cities or local authorities—or any one of 150 areas across Europe—the way you go about your business is in the process of being changed forever by the European Union's Alter Europe Project . The message is clear: run dean or don't run at all.
in by Paul McBride
No doubt with the best of green motives, the EU plans to ban CVs from entering a long list of European destinations unless they are running on an alternative fuel with low or "zero" emissions, currently defined as Euro-5 or above.
If you don't have an approved truck you might have to drive to the outskirts of, say, Birmingham, unload your truck, whistle up an electric vehicle, load it up and complete your delivery. Obviously a totally unworkable system that would, at the very least, drive costs through the roof.
But it is set to become law right across the EU by 2005. All of the 150 signatories to the Alter Project under the EU Declaration of Florence on Alternative Traffic in Towns are committed to introducing "low-emission zones" for all traffic as soon as possible. Massive low-interest loans from the European Investment Bank will help local authorities to change their own fleet—but hauliers, as always, will have to fend for themselves.
The local authorities are really excited by this development. London mayor Ken Livingstone in his Air Quality Strategy Paper for London recommends that all 23 London boroughs should sign up to the Alter Project—and most have done so. The Association of London Government, which includes all the London boroughs, has voted unanimously to support the project.
By a further unanimous resolution, on a proposal made by the Greens and seconded by the Conservatives, the Greater London Assembly has called on Livingstone to adopt and implement the Alter programme.
The Greater London Assembly and Association of Local Government have agreed to undertake a feasibility study on the implications of the introduction of a low-emission zone for London.
As Stuart Holland, chair of the Alter Project Crass-Party Parliamentary Group and of the actual project, says: "By the end of 2002 we will have over 300 cities, towns and regions from Moscow to the Greek Islands and from Ireland to Turkey including all of the UK signed up to the Alter Project.
"Soon it will be very difficult or hugely expensive for any haulage operator or contractor to drive and operate conventional vehicles round, through, or in, any of these Europeanwide regional areas."
About now you're probably saying: "But I don't know anything about this—why wasn't I informed?" Cast your mind back to when John Prescott had that high-profile bust-up with the French Environment Minister. She called him a "male chauvinist pig"; he walked out. The row itself made the headlines nationally, but the furore overshadowed the causes of thew dispute—and the Alter Project was among those causes.
And don't run away with the idea that this scheme is just one more example of muddleheaded green thinking: more than 20 major corporations support the Alter Project and are in the process of forming an steering committee to guide it to its conclusion.
They include Scania, Volvo, Toyota, Esso CNG, Calor Gas/Shell, BP/Aspira, Iveco Ford Trucks, Textron (makers of Bell Helicopters and street legal electric trucks), British Gas/lean. Eco Fuels, Johnson Matthey and London Taxi International. The list is growing daily as the project gathers momentum.
On 14 January the Birmingham Transportation Department hosted Greening The City a "stakeholder dialogue' on cleaning traffic in towns. It attracted representatives from 10 local authorities and 36 major companies. The TransportAction-Cleanup campaign were there in force—but not one haulage operator showed up.
The fuel firms, conversion specialists and vehicle manufacturers had a lot to talk about. With support from local authorities and the EU they're gearing up for a rush of conversions as the new legislation takes effect. They want to convert your truck or sell you a new one.
It's bound to be an expensive process—but hauliers will ignore it at their peril.