150 European towns, cities and local authorities which support Alter
31st January 2002
Page 12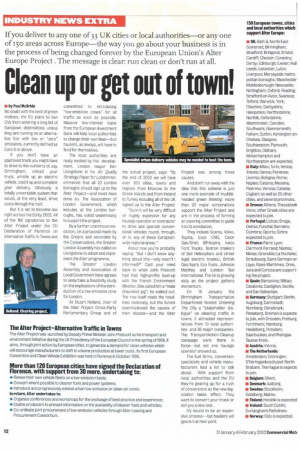 Page 12, 31st January 2002 —
150 European towns, cities and local authorities which support Alter
Close
Europe: • UK: Bath & North-East Somerset; Birmingham; Bradford; Bridgend; Bristol; Cardiff; Chester; Coventry; Derby; Edinburgh; Exeter, Hull Leeds; Leicester; Luton; Liverpool; Merseyside metropaean boroughs; Manchester Middlesborough; Newcastle; Nottingham; Oxford; Reading; Stratford-on-Avon; Swansea; Telford; Warwick; York; Cheshire; Derbyshire; Hampshire; Hertfordshire; Norfolk; Oxfordshire; Westminster; Camden; Southwark; Hammersmith; Fulham; Sutton; Kensington an Chelsea; Glasgow; Southampton; Plymouth; Brighton; Oldham; Wolverhampton and Northampton are expected.
• Italy: Milan; Turin; Venice; Trieste; Genoa; Florence; Livorno; Bologna; Rome; Naples; Catania; Messina; Palermo; Verona; Catania; Cagliari; as well as 20 other cities, and several provinces.
• Greece: Athens; Thessalonik Volos; other Greek cities are expected to join.
• Portugal: Lisbon; Braga; Oeiras; Funchal; Barreiro; Coimbra; Oporto; Sintra expected to join.
• France: Paris; Lyon; Clermont-Ferrand; Nantes; Nimes; Grenoble; La Rochelle; Strasbourg; Saint-Germain-er Laye; Alpes-Maritimes, Orne, Jura and Corsica are supporting the project.
• Spain: Barcelona; Bilbao; Catalonia; Castighon; Seville; and San Sebastian.
• Germany: Stuttgart; Berlin; Augsburg; Darmstadt; Nurnberg; Osnabruck; Pinneberg. Bremen is expecte to join, with Dresden; Freiburg Forchheim; Hamburg; Heidelberg, Potsdam; Saarbucken; and RheingauTaunus-Kreis.
• Austria: Vienna.
II The Netherlands: Amsterdam; Groningen; S'Hertogenbosch;and North Brabant. The Hague is expects to join.
• Belgium: Ghent. le Denmark: Aalborg.
• Sweden: Stockholm; Goteberg; Malmo.
• Finland: Helsinki is expected • Ireland: South Dublin; Dunlaoghaire Rathdown.
• Noway: Oslo is expected.
Tags
Locations
:
Nurnberg
,
York
,
Dublin
,
Bilbao
,
Strasbourg
,
Dresden
,
Oslo
,
Southampton
,
Barcelona
,
Leeds
,
Coventry
,
Helsinki
,
Verona
,
Leicester
,
Birmingham
,
Bath
,
Derby
,
Bradford
,
Liverpool
,
Wolverhampton
,
Bristol
,
Venice
,
Paris
,
Plymouth
,
Stockholm
,
Oxford
,
Exeter
,
The Hague
,
Athens
,
Berlin
,
Rome
,
Chester
,
Stuttgart
,
Cardiff
,
Turin
,
Amsterdam
,
Milan
,
Seville
,
Glasgow
,
Trieste
,
Vienna
,
Reading
,
Lisbon
,
Nottingham
,
Lyon
,
Darmstadt
,
Hamburg
,
Naples
,
Edinburgh
,
Florence
,
Newcastle