ONE HEARS
31st January 1918
Page 3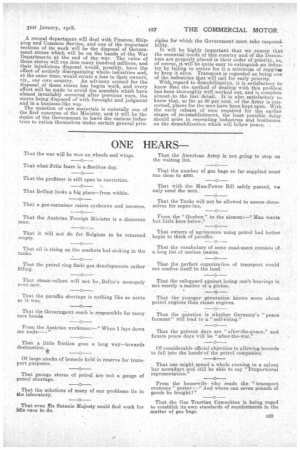 Page 3, 31st January 1918 —
ONE HEARS
Close
That the war will be won on wheels and wings.
That what Fritz fears is a fleetless day.
That the profiteer is still open to conviction.
That Belfast looks a big place—from within: That a gas-container raises eyebrows and incomes.
That the Austrian Foreign Minister is a diczernin man.
That it will not do for Belgium to be returned empty.
That oil is rising on the markets but sinking in the tanks.
That the petrol ring finds gas developments rather filling. , That steam-rollers will net be .Belloc's monopoly even no*.
That the paraffin shortage is nothing like so acute as it was.
That the Government comb is responsible for many core heads From the Austrian workman:--" When. 1 laysdown rae tools—" That a. little friction goes a long way—towards destruction.
Of large stocks of benzole held in reserve for transport purposes.
That garage stores of petrol are not a gauge of petrol shortage.
That the solutions of many of our problems lie in the laboratory.
That even }Ns Satanic Majesty could find woek for idle vans to do. That the 'American Army is not going to stop on the waiting list.
That the number of gas bags so far supplied must run close to 4000.
That with the Man-Power Bill safely passed, we only need the men.
That the Tanks will not be allowed to assess themselves for super-tax.
From the " Gooben" to the airmen:—" Man wanta but little here below."
That owners of agrimotors using petrol had better begin to think of paraffin.
That the vocabulary of some road-users consists of a long list of useless names.
That the perfect organization of transport would not confine itself to the land.
That the safeguard against losing one's bearings is not merely a matter of a pinion.
That the younger generation knows more about petrol engines than steam engines.
That the question is whether Germany's "peace ferment" will lead to a, "self-rising."
That the present days are "alter-the-peace," and future peace days will be "after-the-war.' " Of considerable official objection to allowing benzole to fall into the handrof the petrol companies.
That one might spend a whole evening in a saloon bar nowadays and still be able to say "Proportional representation."
From the housewife who reads the "transport economy" poster:—" And where can seven pounds of goods be bought?"
That.the Gas Traction Committee is being urged to establish its own standards of requirements in the matter of gas bags.