THE RETURNED ARMY VEHICLE.
31st January 1918
Page 2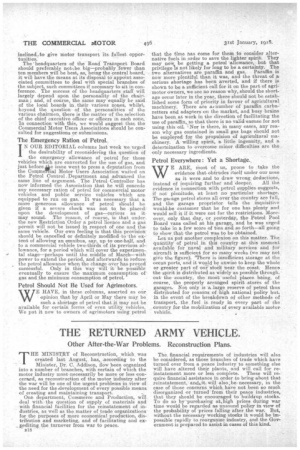 Page 3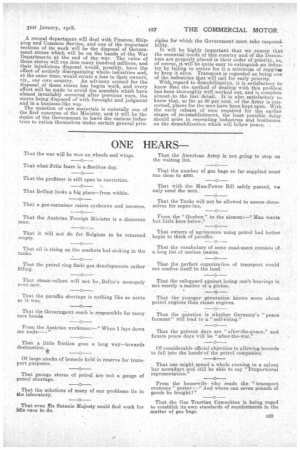 Page 2, 31st January 1918 —
THE RETURNED ARMY VEHICLE.
Close
Keywords :
Other After-the-War Problems. Reconstruction Plans.
THE MrNISTRY of Reconstruction, which was created last August, has" .according to the Minister, Dr. C. Addison, fiOw been organized into a number of branches, with certain of which the motor industry must-necessarily be more or less concerhed, as reconstruction of the motor industry after the war will be one of the urgent problems in view of the need for the .development of every possible means
of creating and maintaining transport. a One department, Commerce and Production, will deal with the question of supply of materials and with financial facilities for the reinstatement of industries, as well as" the matter of trade organizations for the purposes of more economical production, distribution and marketing, and of facilitating and ex, nediting the turnover from war to peace.
The, financial requirements of industries will also be considered, as those branches of trade which have turned over from a peace industry to 'something else will have ,altered their plants, and will call for reinstatement more or less complete. These will require financial assistance in order to bring about that reinstatement,. andsit, will also _be, necessary, in the case of those concerns which have not been so much disorganized or turned' from their peace industriee, that they should be encouraged to buildeup . stocks. To do so by `purchasing at high 'prices during war time would be regarded as unsound policy in view of the probability of prices falling after the war. But, without the necessary working stocks it would be inpossible rapidly to re-organize industry, and the Government is prepared to assist in cases of this kind. A second department will deal with Finance, Shipping and Common Service, and one of the important sections of its work will be the disposal of Government stores which will be on the hands of the War Departments at the end of the war. The value of these stores will run into many hundred millions, and their injudicious disposal would, possibly, have the effect of entirely disorganiging whole-industries and, at the same time, would create a loss to tbeir owners, viz., our own country. An advisory council for the disposal of these stores has begun work, and every effort will be made to avoid the scandals which have almost invariably occurred after previous wars, the stores being disposed of with foresight and judgment and in a business-like way. The question of raw materials is naturally one of the first concerns of the Ministry, and it will be the desire of the Goverpment to leave the various industries to ration themselves under certain general prin ciples for which the Government must take responsibility. It will be highly important that we ensure that the essential needs of this country and of the Dominions are properly placed in their order of priority, as, of course, it will be quite easy to extinguish an industry by failing to secure for it a minimum of supplies to keep it alive. Transport is regarded as being one of the industries that will call for early priority. Witkregard to demobilization, it is satisfactory to know that the method of dealing with this problem has been thoroughly well worked out, and is complete almost,to the last detail. It is also satisfactory to know that, so far as 60 per cent, of the Army is concerned, places for the men have been kept open. With the early release of men required for the earlier stages of re-establishment, the least possible delay should arise in recreating 'industries and businesses on the demobilization which will follow peace. _