KEEP YOUR EYE ON "WEIGHT TO CAPACITY."
31st January 1918
Page 19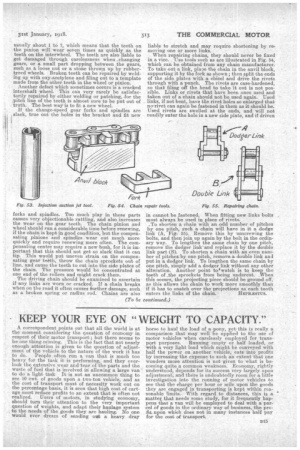 Page 19, 31st January 1918 —
KEEP YOUR EYE ON "WEIGHT TO CAPACITY."
Close
A correspondent points out that all the world is at, the moment considering the question of economy in respect of their motor transport; but there seems to be one thing missing. This is the fact that not nearly enough attention is given to the question of adjustment of the vehicle to the nature of the work it has to do. People often run a van that is much too heavy for the task it is performing, and they overlook the extensive wear andlear of the parts and the waste of fuel that is involved in allowing a large van' to do a light task It is not an uncommon thing to see 10 cwt. of goods upon a two-ton vehicle, and as the cost of transport must of necessity work out on the percentage basis, it is seen that high cost of cartage must reduce profits to an extent that is often not realized. Users of motors, in studying economy, should turn their attention to the very important question of weights, and adapt their haulage system to the needs of the goods they are hauling. No one would ever dream of sending out a heavy dray
horse to haul the load of a pony, yet this is really a comparison that may well be applied to the use of motor vehicles when carelessly employed for transport purposes. Running empty or half loaded, or with a very light load which might be conveyed with half the power on another vehicle, eats into profits by increasing the expense to such an extent that one wonders more attention is not given to what is becoming quite a common weakness. Economy, rightly understood, depends for its success very largely upon adjustment, and there is undoubtedly room for a little investigation into the running of motor vehicles to see that the charge per hour or mile upon the goods they are engaged in transporting is kept within reasonable limits. With regard to distances, this is a matter that needs some study, for it frequently happens that a van will be employed to deal with a parcel of goods in the ordinary way of business, the proIttnpon which does not in many instances half pay for the cost of transport.