TRACTOR PULLS BIG GUNS.
31st January 1918
Page 14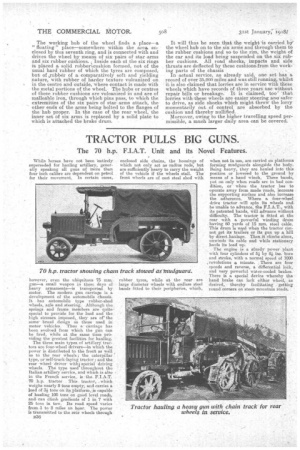 Page 14, 31st January 1918 —
TRACTOR PULLS BIG GUNS.
Close
The 70 h.p. F.I.A.T. Unit and its Novel Features.
While horses have not been 'entirely superseded for hauling artillery, generally speaking all guns -of more than four inch calibre are dependent on petrol for their movement. In certain cases, however, even the ubiquitous 75 mm.. gun—a small weapon in these days oi heavy armaments—is 'transported. by motor. The modern gun carriage is a development of the automobile chassis. It has automobile type rubber-shod wheels, axle and steering. Although the. springs and frame members are quite. special to provide for the load and the high stresses iniposed,-, they are or the samebroad design as those used in motor vehicles. Thus a, carriage has been '.evolved from which the gun can be fired, while at the Mlle time providing the greatest facilities for hauling.
The, three main types of artillery tractors are four-wheel drivers—in which the power is distributed to the front as well as to -the rear wheels ; the caterpillar type, .oieself-track-Ilying tractor ; and the rear -wheel driver with special driving wheels. The type used throughout the Italian artillery service, and which is also in the French service, is the. F.I.A.T. 70 h.p. . tractor This tractor, . which weighs nearly 8 tbriz eitipty; and carrieS a load of 3, tons on' its platforin,:,k, capable of hauling 100 tone on good level rum% and can climb gradients Of 1 in 7 with 25 tons in tow. Its road speed. varies from 1 to 8 miles an hoar. The power is transmitted to the rear wheels through
B30
enclosed side chains, the housings of which not only act as-radius rods, but are sufficiently heavy to carry the weight of the vehicle if the wheels stall. The' front wheels are of cast steel shod with
rubber tyres, while at the rear are large diameter wheels with endless steel bends fitted to their peripheries, which,
when not in use, are carried on platforms forming mudguards alongside the body. Being heavy, they are hauled into this position or lowered to the ground by means of a hand winch. These bands, put on only when roads are in bad condition' or when the tractor has to operate away from made roads, increase the supporting surface' and also increase the adherence. Where a four-wheel drive tractor -will spin its wheels and be unable to advance, the with its patented hands, will advance without -difficulty. The tractor is fitted at the rear . with a -powerful winding drum having 60 yards of 15 mm. steel cable. This drum is used when the tractor can. not get its trailers or its gun up a hill by direct-haulage. Then it climbs alone, unwinds its cable and while stationary hauls its load up.
The engine is a sturdy power plant
with four cylinders of N. by insbare and stroke, with a normal speed of 1000 ,-revolutions a., minute. Thera are few speeds and reverse, a differential loCk, and very powerful water-cooled brakes. There is a special device whereby the hand brake can lock either wheel, as desired, thereby facilitating getting round 'corners on stem) mountain roads.