COULD ONLY GO, BY ROAD.
31st January 1918
Page 12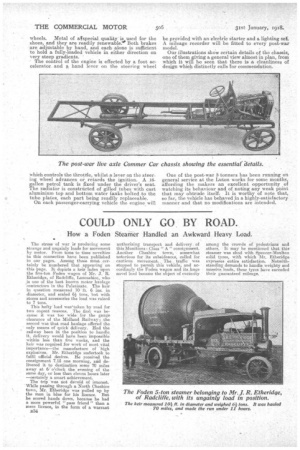 Page 12, 31st January 1918 —
COULD ONLY GO, BY ROAD.
Close
How a Foden Steamer Handled an Awkward Heavy Load.
The stress of war is producing some strange and ungainly loads for movement by motor. From time to time novelties in this connection have been published in our pages. Among these must ..certainly be numbered that _appearing on this page. It depicts a keir laden upon the five-ton Foden wagon of Mr. J. R. Etheridge, of Radcliffe, Lancashire, who is one of the best known motor haulage 'contractors in the Palatinate. The keir in question measured 10 ft. 6 ins, in diameter, and scaled 64. tons, but with stores and accessories the load was raised to 7 tons.
This heftYload was'taken by road for two cogent reasons. The first was because it was too widefor the gange clearance of the Midland Railway ; the second was that road haulage offered the only Meana of quick delivery. Had the railway been in the position to handl@. it, delivery would have been impossible within less than five weeks, and the heir was required for work of most .vital importance—the manufacture of high explosives. Mr. Etheridge undertoOk.to fulfil official desires. He received the consignment 7.15 one morning, and delivere% it to destination some 70 Miles away at 6' o'clock the evening of the Marie day, or less than eleven hours later —certainly a smart achievement.
The trip was riot deyoid of interest. While passing through a North Cheshire town, Mr. Etheridge was pulled up by the man in. blue for his licence. But he scored hands down, because he had a more powerful "pass friend" than a mere licence, in the form of:a warrant
B34
authorizing transport and delivery. of this Munitions : Class " A " consignment. Another Cheshire town, somewhat notorious for Its subsidences, called for cautious movement.. The traffic was stopped to permit this vehicle and accordingly the roden wagon and its huge novel load becathe the object of curiosity among the crowds of pedestrians and others. It may he mentioned that this steamer -was shod. with Spencer,Moulton solid tyres, with which Mr. Etheridge . expresses entire satisfaction. Notwithstanding demands to handle weighty and massive loads, these tyres have exceeded their guaranteed mileage.