Winter deadlini for action on m-way fog
31st August 1985
Page 8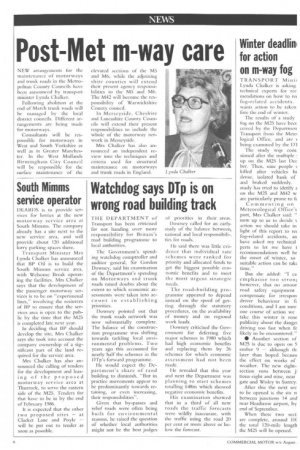 Page 8, 31st August 1985 —
Winter deadlini for action on m-way fog
Close
Keywords :
Counties Of England
,
Geography Of England
,
Meteorology
,
Transport In Kent
,
Transport In Buckinghamshire
,
Semi-automatic Rifles
,
Sniper Rifles
,
M25 Motorway
,
M25 Sniper Rifle
,
Wisley
,
Fog
,
London Heathrow Airport
TRANSPORT Mini:, Lynda Chalker is asking technical experts for rec• mendations on how to re( fog-related accidents. wants action to be taken fore the end of winter.
The results of a study fog on the M25 have beer ceived by the Departmen Transport from the Mete, logical Office, and are i being examined by the D1 The study wqs corn: sioned after the multiple up on the M25 last Dec ber. Then, nine people killed after vehicles hi dense, isolated bank of and braked suddenly, study has tried to idetify a on the M25 and M42 w are particularly prone to fi Commenting on Meteorological Office's port, Mrs Chalker said: " now up to us to decide action we should take in light of this report to rem fog-related accidents, an have asked my technical perts to let me have t recommendations well be the onset of winter, so suitable action can be tak( time."
But she added: "I ca emphasise too strom however, that no amour road safety equipment compensate for irrespon driver behaviour in lc conditions, and I am sure one course of action we take this winter is rene publicity about the dangei driving too fast when In likely to be encountered."
• Another section of M25 is due to open on S ember 9 — although thi later than hoped becausc the effect on works of weather. The now eightsection runs between ji tions eight and nine, near gate and Wisley in Surrey.
After this the next sec to be opened is the six ri between junctions 14 and near Heathrow .airport, by end of September.
When these two sect: are complete, around 10C the total 120-mile length the M25 will be opened.