Watchdog says Dip is on wrong road building track
31st August 1985
Page 8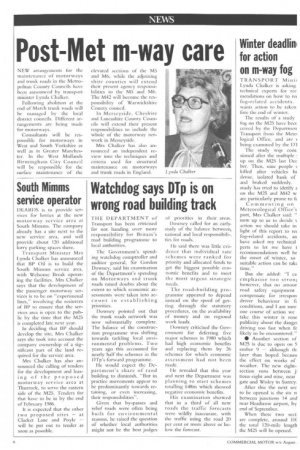 Page 8, 31st August 1985 —
Watchdog says Dip is on wrong road building track
Close
THE DEPARTMENT of Transport has been criticised for not handing over more responsibility for Britain's road building programme to local authorities.
The Government's spending watchdog comptroller and auditor general, Sir Gordon Downey, said his examination of the Department's spending on Motorways and trunk roads raised doubts about the extent to which economic assessments were taken into acco u n t in establishing priorities.
Downey pointed out that the trunk roads network was now substantially complete. The balance of the construction programme was shifting towards tackling local environmental problems. Two years ago this accounted for nearly half the schemes in the DTp's forward programme.
He would expect the Department's share of raod building to diminish, "But in practice movements appear to be predominantly towards retaining, or even increasing, their responsibilities".
Given that by-passes and relief roads were often being built for environmental reasons, he raised the question of whether local authorities might not be the best judges of priorities in their areas.
Downey called for an early, study of the balance between, national and local responsibilities for roads.
He said there was little evidence that individual rate schemes were ranked for priority and allocated funds to get the biggest possible economic benefits and to meet the most urgent strategic needs.
The road-building programme appeared to depend instead on the speed of getting through the statutory procedures, on the availability of money and on regional work loads.
Downey criticised the Government for deferring five major schemes in 1980 which had high economic benefits and replacing them by 26 schemes for which economic assessment had not been made.
He revealed that this year and next the Department was planning to start schemes totalling £48m which showed negative economic benefits.
His examination showed that in a third of all new roads the traffic forecasts were wildly inaccurate, with the traffic using the road 20 per cent or more above or below the forecast.