Post-Met m-way care
31st August 1985
Page 8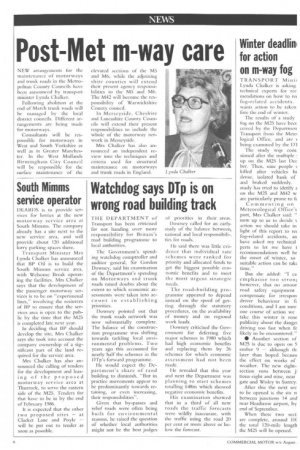 Page 8, 31st August 1985 —
Post-Met m-way care
Close
NEW arrangements for the maintenance of motorways and trunk roads in the Metropolitan County Councils have been announced by transport minister Lynda Chalker.
Following abolition at the end of March trunk roads will be managed by the local district councils. Different arrangements are being made for motorways.
Consultants will be responsible for motorways in West and South Yorkshire as well as in Greater Manchester. In the West Midlands Birmingham City Council will be responsible for the surface maintenance of the elevated sections of the M5 and MG, while the adjoining shire counties will extend their present agency responsibilities to the M5 and MG. The M42 will become the responsibility of Warwickshire County council.
In Merseyside, Cheshire and Lancashire County Councils will extend their present responsibilities to include the whole of the motorway network in Merseyside.
Mrs Chalker has also announced an independent review into the techniques and criteria used for structural maintenance on motorways and trunk roads in England.