tension to objectors' rights
31st August 1985
Page 7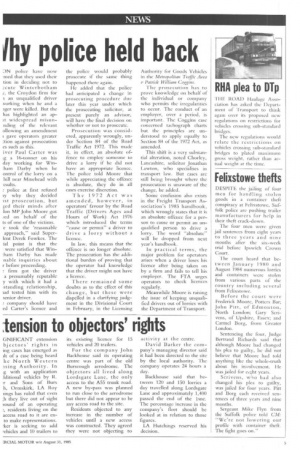 Page 7, 31st August 1985 —
tension to objectors' rights
Close
GNIFIC ANT extension bjectors' rights in ing cases has emerged as ilt of a case being heard he North Western asing Authority. In g with an application Iditional vehicles by R. ;i; and Sons of Burs Ormskirk, LA Roy sings has ruled that even ,11 they live out of sight sound of an operating
residents living on the access road to it are ento make representations. .ker is seeking to add ,ehicles and 10 trailers to
its existing licence for 15 vehicles and 20 trailers.
For the company John Backhouse said its operating centre was part of the old Burscough aerodrome. The objectors all lived along Lordsgatc Lane, the only access to the A55 trunk road. A new by-pass was planned to run close to the aerodrome but there did not appear to be any access road to the site.
Residents objected to any increase in the number of vehicles until a new access was constructed. They agreed they were not objecting to activity at the centre.
David Barker the company's managing director said it had been directed to the site by the local authority. The company operates 24 hours a day.
Backhouse said that between 120 and 150 lorries a day travelled along Lordsgate Lane and approximately 1,400 passed the end of the lane. The percentage increase in the company's fleet should be looked at in relation to those figures.
LA Hutchings reserved his decision.