CEGB tipper bonus
31st August 1985
Page 6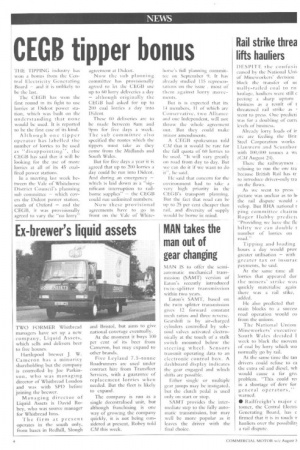 Page 6, 31st August 1985 —
CEGB tipper bonus
Close
THE TIPPING industry has won a bonus from the Central Electricity Generating Board — and it is unlikely to be the last.
The CEGB has won the first round in its fight to use lorries at Didcot power station, which was built on the understanding that none would be used. It is reported to be the first case or its kind.
Although one tipper operator has labelled the number of lorries to be used as "disappointing, the CEGB has said that it will be looking for the use of more lorries at all of its 45 coalfired power stations.
In a meeting last week between the Vale of Whitehorse District Council's p1 aiming sub committee — which covers the Dicicor power station, south of Oxford — and the CEGB, it was provisionally agreed to vary the "no lorry" agreemenL at 1.)idcot.
Now the sub planning committee has provisionally agreed to let the CEGB use up to 60 lorry deliveries a day — although originally the CEGB had asked for up to 200 coal lorriesa day into Didcot.
These 60 deliveries are to be made between Sam and 9pm for five days a week. The sub committee also specified the routes which the tippers must take as they conic from the Midlands and South Wales.
But for five days a year it is agreed that up to 200 lorries a day could be run into Didcot. And during an emergency — which is laid down as a "significant interruption to railborne supplies" — the CEGB could run unlimited numbers.
Now these provisional agreements have to go in front on the Vale of White horse's full planning committee on September 9. It has already studied 115 representations on the issue . most of diem against lorry movements.
But is IS expected that its 14 members, 11 of which are Conservative, two Alliance and one Independent, will not throw the whole agreement :out. But they could make minor amendments.
A CEGB spokesman told CM that it would be rare for the full quota of 60 lorries to be used. "It will vary greatly on road from day to day. But we can do it if we want to do it", he said.
He said that concern for the environment had to take a very high priority in the CEGB's transport planning. But the fact that road can be up to 25 per cent cheaper than rail, and diversity of supply would be borne in mind.