TGWU's 'temporary disarray'
31st August 1985
Page 5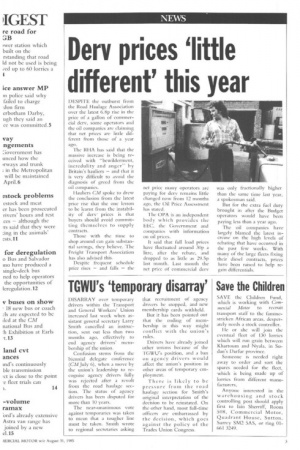 Page 5, 31st August 1985 —
TGWU's 'temporary disarray'
Close
Keywords :
International Transport Workers' Federation
,
International Union Of Food, Agricultural, Hotel, Restaurant, Catering, Tobacco And Allied Workers' Association
,
Transport And General Workers' Union
,
Trades Union Congress
,
Labor
,
Environment
,
Disaster / Accident
DISARRAY over temporary drivers within the Transport and General Workers' Union increased last week when assistant general secretary Larry Smith cancelled an instruction, sent out less than two months ago, effectively to end agency drivers' membership or the union.
Confusion stems from the biennial delegate conference (CM July 6), when a move by the union's leadership to recognise agency drivers fully was rejected after a revolt from the road haulage secdon. The status of agency drivers has been disputed for more than 10 years.
The near-unanimous vote against temporaries was taken to mean that a tougher line must be taken. Smith wrote to regional secretaries asking that recruitment of agency drivers be stopped, and new membership cards withheld.
But it has been pointed out that the ending of membership in this way might conflict with the union's rules.
Drivers have already joined other unions because of the '1-GWU's position, and a ban on agency drivers would affect the union's position in other areas of temporary employment,
There is likely to be pressure from the road haulage section for Smith's original interpretation of the decision to be reinstated. On the other hand, most full-time officers are embarrassed by the decision, which goes against the policy of the Trades Union Congress.