Dery prices 'little different' this year
31st August 1985
Page 5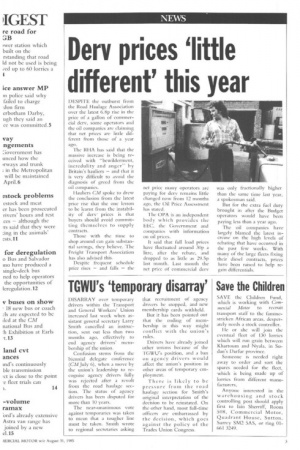 Page 5, 31st August 1985 —
Dery prices 'little different' this year
Close
DESPITE the outburst from the Road Haulage Association over the latest 6.8p rise in the price of a gallon of commercial derv, some operators and the oil companies are claiming that net prices are little different from those of a year ago.
The RHA has said that the massive increase is being received with ``bewilderment, incredulity and anger' by Britain's hauliers — and that it is very difficult to avoid the diagnosis of greed from the oil companies.
Hauliers CM spoke to drew the conclusion from the latest price rise that the one lesson to be learnt from the instability of dervprices is that buyers should avoid committing themselves to supply contracts.
Those with the time to shop around can gain substantial savings, they believe. The Freight Transport Association has also advised this.
Despite frequent schedule price rises — and falls — the net price many operators are paying for dery remains little changed now from 12 months ago, the Oil Price Assessment Ins stated.
1 he OPA is an independent body which provides the EEC, the Government and companies with information on oil prices.
It said that full load prices have fluctuated around 30p a litre, after the rebate, and dropped to as little as 29.5p last month. Last month the net price of commercial dery was only fractionally higher than the same time last year, a spokesman said.
But for the extra fuel duty brought in after the Budget operators would have been paying less than a year ago.
The oil companies have largely blamed the latest increase on the high levels of rebating that have occurred in the past few weeks. With many of the large fleets fixing their diesel contracts, prices have been raised to help regain differentials.