y ET ANOTHER disruption to the railways could do a lot
31st August 1985
Page 4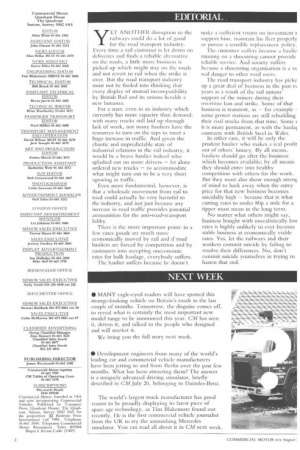 Page 4, 31st August 1985 —
y ET ANOTHER disruption to the railways could do a lot
Close
of good for the road transport industry. Every time a rail customer is let down on deliveries and finds a reliable alternative on the roads, a little more business is picked up which might stay on the roads and not revert to rail when the strike is over. But the road transport industry must not be fooled into thinking that every display of mutual incompatibility by British Rail and its unions heralds a new bonanza.
For a start, even in an industry which currently has more capacity than demand, with many trucks still laid up through lack of work, not many hauliers have the resources to turn on the taps to meet a huge increase in traffic. And given the chaotic and unpredictable state of industrial relations in the rail industry, it would be a brave haulier indeed who splashed out on more drivers — let alone ordered new trucks — to accommodate what might turn out to be a very short upswing in traffic.
Even more fundamental, however, is that a wholesale movement from rail to road could actually be very harmful to the industry, and not just because any increase in road traffic provides potential ammunition for the anti-road-transport lobby.
There is the more important point: in a few cases goods are much more economically moved by rail and if road hauliers are forced by competition and by customers into accepting uneconomic rates for bulk haulage, everybody suffers.
Thc haulier suffers because he doesn't
make a sufficient return on investment t support him, maintain his fleet properly or pursue a sensible replacement policy.
The customer suffers because a haulie running on a shoestring cannot provide reliable service. And society suffers because a shoestring organisation is a ye real danger to other road users.
The road transport industry has picke up a great deal of business in the past 0; years as a result of the rail unions' support of the miners during their overtime ban and strike. Some of that business is transient, as — for example some power stations are still rebuilding their coal stocks from that time. Some ( it is more permanent, as with the haulai contracts with British Steel in Wales.
In either case, it will be only the prudent haulier who makes a real profit out of others' lunacy, By all means, hauliers should go after the business which becomes available; by all means they should enter into healthy competition with others for the work. But they must also show enough stren€ of mind to back away when the entry price for that new business becomes suicidally high — because that is what cutting rates to under gi)p a mile for a tipper must mean in the long term.
No matter what others might say, business bought with unrealistically low rates is highly unlikely to ever become stable business at economically viable rates. Yes, let the railways and their workers commit suicide by failing to resolve their differences. No, don't commit suicide yourselves in trying to hasten that end.