GROWING WITHOM RATE CUTTING
31st August 1985
Page 30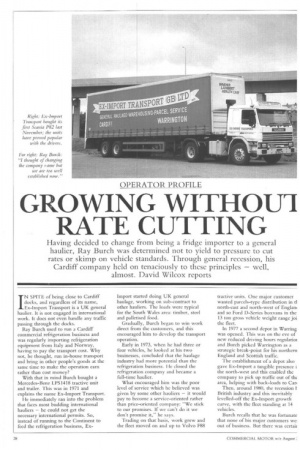 Page 31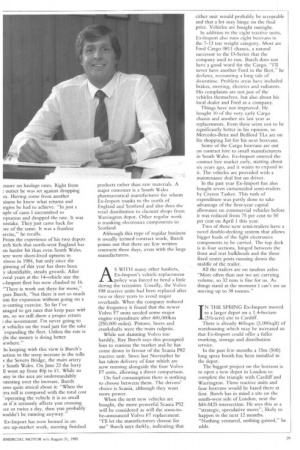 Page 30, 31st August 1985 —
GROWING WITHOM RATE CUTTING
Close
Haying decided to change from being a fridge importer to a general haulier, Ray Burch was determined not to yield to pressure to cut rates or skimp on vehicle standards. Through general recession, his Cardiff company held on tenaciously to these principles — well, almost. David Wilcox reports
IN SPITE of being close to Cardiff docks, and regardless of its name, Ex-Import Transport is a UK general haulier. It is not engaged in international work. It does not even handle any traffic passing through the docks.
Ray Burch used to run a Cardiff commercial refrigeration business and was regularly importing refrigeration equipment from Italy and Norway, having to pay the transport cost. Why not, he thought, run in-house transport and bring in other people's goods at the same time to make the operation earn rather than cost money?
With that in mind Burch bought a Mercedes-Benz LPS1418 tractive unit and trailer. This was in 1971 and explains the name Ex-Import Transport.
He immediately ran into the problem that faces most budding international hauliers — he could not get the necessary international permits. So, instead of running to the Continent to feed the refrigeration business, Ex Import started doing UK general haulage, working on sub-contract to other hauliers. The loads were typical for the South Wales area: timber, steel and palletised food.
Gradually, Burch began to win work direct from the customers, and this encouraged him to develop the transport operation.
Early in 1973, when he had three or four vehicles, he looked at his two businesses, concluded that the haulage industry had more potential than the refrigeration business. He closed the refrigeration company and became a full-time haulier.
What encouraged him was the poor level of service which he believed was given by some other hauliers — it would pay to become a service-oriented rather than price-oriented company: "We stick to our promises. If we can't do it we don't promise it," he says.
Trading on that basis, work grew and the fleet moved on and up to Volvo F88 tractive units. One major customer wanted parcels-type distribution in tl north-east and north-west of Englarn and so Ford D-Series boxvans in the 13 ton gross vehicle weight range joi the fleet.
In 1977 a second depot in Warring was opened. This was on the eve of new reduced driving hours regulatioi and Burch picked Warrington as a strategic break-point for his northern England and Scottish traffic.
The establishment of a depot also gave Ex-Import a tangible presence i the north-west and this enabled the company to pick up traffic out of thc area, helping with back-loads to Can
Then, around 1980, the recession IBritish industry and this inevitably levelled-off the Ex-Import growth curve, with the fleet standing at 14 vehicles.
Burch recalls that he was fortunate that none of his major customers wei out of business. But there was certait :ssure on haulage rates. Right from ; outset he was set against dropping es. Having come front another siness he knew what returns and irgins he had to achieve. "In just a uple of cases I succumbed to nptation and dropped the rate. It was nistake. They just came back for pre of the same. It was a fruitless ercise," he recalls.
From the experience of his two depots irch feels that north-west England has en harder hit than even South Wales. tere were short-lived upturns in siness in 1984, but only since the ginning of this year has there been y identifiable, steady growth. After veral years at the I4-vehicle size the [-Import fleet has now climbed to 16. "There is work out there for more," gues Burch, "but there is not so much om for expansion without going on a :e-cutting exercise. So far I've anaged to get rates that keep pace with sts, so we still show a proper return the investment. I'm never going to It vehicles on the road just for the sake 'expanding the fleet. Unless the rate is Ott the money is doing better ;ewhere."
In keeping with this view is Butch's action to the steep increase in the tolls r the Severn Bridge, the main artery r South Wales. On June 23 the lorry 11 went up from 40p to £1. While so any in the area are understandably .otesting over the increase, Burch ems quite stoical about it: "When the :tra toll is compared with the total cost -operating the vehicle it is so small .at if it seriously affects you crossing ice or twice a day, then you probably iouldn't be running anyway."
Ex-Import has now horned in on .ore up-market work, moving finished products rather than raw materials. A major customer is a South Wales pharmaceutical manufacturer for whom Ex-Import trunks to the north of England and Scotland and also does the retail distribution to chemist shops from Warrington depot. Other regular work is trunking electronics components to Scotland.
Although this type of regular business is usually termed contract work, Burch points out that there are few written contracts these days, even with the large manufacturers.
AS WITH many other hauliers, Ex-Import's vehicle replacement policy was forced to bend a little during the recession. Usually, the Volvo F88 tractive units had been replaced after two or three years to avoid major overhauls. When the company reduced the frequency it found that the newer Volvo F7 units needed some major engine expenditure after 400,000km (250,000 miles). Pistons, liners and crankshafts were the main culprits.
While not damning Volvo too harshly, Ray Burch says this prompted hint to reassess the market and he has come down in favour of the Scania P82 tractive unit. Since last November he has taken delivery of four which are now running alongside the four Volvo F7 units, allowing a direct comparison.
On fuel consumption there is nothing to choose between them. The drivers' choice is Scania, although they want more power.
When the next new vehicles are bought, thc more powerful Scania P92 will be considered as will the soon-tobe-announced Volvo F7 replacement. "I'll let the manufacturers choose for me" Burch says darkly, indicating that either unit would probably be acceptable and that a lot may hinge on the final price. Vehicles arc bought outright.
In addition to the eight tractive units, Ex-Import also runs eight boxvans in the 7-13 ton weight category. Most are Ford Cargo 0811 chassis, a natural successor to the D-Series that the company used to run. Burch does not have a good word for the Cargo. "I'll never have another Ford in the fleet," he declares, recounting a long tale of downtime. Problem areas have included brakes, steering, electrics and radiators. His complaints are not just of the vehicles themselves, but also about his local dealer and Ford as a company.
Things have not improved. He bought 10 of the very early Cargo chassis and another six last year as replacements. Even these seem not to be significantly better in his opinion, so Mercedes-Benz and Bedford TLs are on his shopping list for his next boxvans.
Some of the Cargo boxvans are out on contract hire to small manufacturers in South Wales. Ex-Import entered the contract hire market early, starting about six years ago, and it wants to expand in it. The vehicles are provided with a maintenance deal but no driver.
In the past year Ex-Import has also bought seven curtainsided semi-trailers by Craven Tasker. This rush of expenditure was partly done to take advantage of the first-year capital allowance on commercial vehicles before it was reduced from 75 per cent to 50 per cent on April 1 this year.
Two of these new semi-trailers have a novel double-decking system that allows bigger loads of the light electronics components to be carried. The top deck is in four sections, hinged between the front and rear bulkheads and the three fixed centre posts running down the middle of the trailer.
All the trailers are on tandem axles: "More often than not we are carrying volume, so 32 tons is fine for us. As things stand at the moment I can't see us moving up to 38 tonnes."
IN THE SPRING Ex-Import moved to a larger depot on a 1.4-hectare (31/2-acre) site in Cardiff.
There is already 465sqm (5,000sqft) of warehousing which may be increased so that Ex-Import could offer a fuller trunking, storage and distribution service.
In the past few months a 15m (50ft) long spray booth has been installed in the depot.
The biggest project on the horizon is to open a new depot in London to complete the triangle with Cardiff and Warrington. Three tractive units and four boxvans would be based there at first. Burch has in mind a site on the south-west side of London, near the M4-M25 intersection. He sees this as a "strategic, speculative move", likely to happen in the next 12 months. "Nothing ventured, nothing gained," he adds.