LITTLE STAR
31st August 1985
Page 26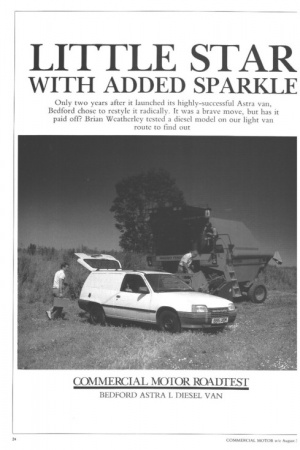 Page 27
Page 28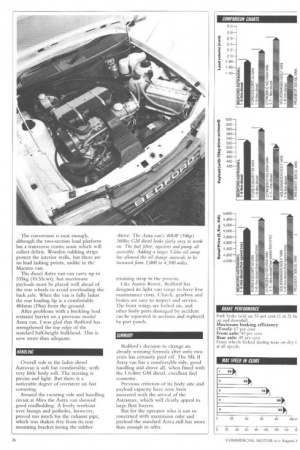 Page 26, 31st August 1985 —
LITTLE STAR
Close
Keywords :
Hatchbacks
,
Sedans
,
Station Wagons
,
Coupes
,
Convertibles
,
Opel Astra
,
Austin Maestro
,
Ford Escort
,
Diesel Engine
,
Diesel Locomotive
,
Vauxhall Astra
,
Holden Astra
WITH ADDED SPARKLE
Only two years after it launched its highly-successful Astra van, Bedford chose to restyle it radically. It was a brave move, but has it paid off? Brian Weatherley tested a diesel model on our light van route to find out
YOU were a manufacturer with a :op-selling van on your bands, would you change it? When Bedford aunched its original Astra van in 2 sales exceeded even its own :in.al forecast. Yet within two years highly successful model was replaced revised range based on the latest dynamic Astra estate body.
he new shape has certainly not ctecl the popularity of the Astra, ch continues to sell well against Is from Austin-Rover and Ford. But story does not end there. Bedford now launched an additional bignue version — the Astramax — eh will be sold alongside the existing te-based range (see page 15). }tie part of the Astra van which has .ained constant throughout its four :s of production is the option of a -litre diesel engine. Judging by the st production figures, the advantages liesel engines are finally dawning on car-derived-van buyers. Over 40 cent of the Astra vans produced at Vauxhall Ellesmere Port plant are fitted with the GM diesel. At rby Halewood, where its arch-rival Ford Escort van is built, diesel tent has risen to 50 per cent. its light commercial vehicle test programme. It was for this reason that we chose to test the diesel version of the Astra van.
It is hard to be unaware of the van's smooth aerodynamic body, which has a claimed 0.35Cd drag factor — said by Bedford to be the lowest in its class. This, combined with its fuel-efficient indirect-injection diesel and optional five-speed gearbox, was certainly reflected in its fuel economy around our Kent light van route. Running with a 519kg (10.22cwt) payload it returned an excellent 5.86 lit/100km (48.19inpg).
This beats the 1.6-litre diesel Ford Escort which last year gave us 6.13 lit/100km (46.10mpg) carrying a slightly heavier load. It also beats the recently tested 1.9-litre Peugeot 305GL diesel (CM April 20) with its consumption of 6.82 lit/100km (41.4mpg).
Unladen, the diesel Astra van was even more frugal. It used just 7.35 litres around the 85.3-mile route to give it an overall figure of 5.35 lit/100km (52,75mpg).
Fully laden, the diesel Astra van is a steady, rather than a lively, performer. With the engine's maximum torque of 96Nrrt (70.8 lbft) delivered at 2,400rpin, it will just about pull the deep (0.71:1) overdrive fifth gear at 30mph, but is much happier in fourth.
Compared with petrol versions the diesel van is particularly down on midrange power between 40-60mph.
Letting the engine lug down in a high gear will no doubt help fuel economy. But if journey times are more important, the engine revs must be kept well up to maintain an acceptable average speed.
The optional five-speed gearbox, with its extra overdrive fifth gear, is well matched to the 1.6-litre engine. On fuel economy alone, it is certainly worth the extra £121.
The short, floor-mounted lever has a well-spaced pattern and a light, positive action which allows for very slick gear changes.
Initial impressions of the Astra's driving compartment are of a rather constricted cockpit. This feeling is not helped by the deep, slab-fronted dashboard and the standard centre console. But any feeling of claustrophobia soon passes. The nearness of the dash simply ensures that all controls are well within the reach of the driver. Indeed, the whole dash layout in the Astra van is superb, with instruments well marked and easy to read and comprehend.
Interior noise levels in the diesel Astra are slightly higher than in the Escort. At 60mph the level in the Bedford was 80dB (A) compared with 76dB(A) in the Ford. Overall, however, the diesel Astra is acceptably quiet.
There is plenty of storage space for the driver, with two glove boxes — one lockable, a wide tray on the left of the dash, a pigeon-hole in the centre console and room behind the seats. With L-trim models there are door pockets, VISIBILITY Forward visibility is above average, aided by the well-set-back A-posts and deep windscreens. The distinctively bulbous nose, though, makes it rather difficult to judge overhang.
All models have internally-adjustable wing mirrors as standard.
The change to the current estate body design in 1984 boosted the van's load volume from 1.79cum (63.9cuft) to 1.87cum (66.7cuft). Its load platform length and interior height have also been increased along with the interior width, The conversion is neat enough, although the two-section load platform has a transverse centre scam which will collect debris. Wooden rubbing strips protect the interior walls, but there are no load lashing points, unlike in the Maestro van.
The diesel Astra van can carry up to 535kg (10.53ewt), but maximum payloads must be placed well ahead of the rear wheels to avoid overloading the back axle. When the van is fully laden the rear loading lip is a comfortable 484mm (19in) from the ground.
After problems with a buckling load restraint barrier on a previous model Astra van, I was glad that Bedford has strengthened the top edge of the standard half-height bulkhead. This is now more than adequate.
HANDLING
Overall ride in the laden diesel Astravan is soft but comfortable, with very little body roll. The steering is precise and light. But there is a noticeable degree of oversteer on fast cornering.
Around the twisting ride and handling circuit at Mira the Astra van showed good roadholding. A lively workout over bumps and potholes, however, proved too much for the exhaust pipe, which was shaken free from its rear mounting bracket losing the rubber Above: The Astra van's 40kW (54hp) 1600cc GM diesel looks fairly easy to work on. The fuel filter, injectors and pump all accessible. Adding a larger 54itre oil sump has allowed the oil change intervals to be increased from 3,000 to 4,500 miles.
retaining strap in the process.
Like Austin Rover, Bedford has designed its light van range to have low maintenance costs. Clutch, gearbox and brakes are easy to inspect and service. The front wings are bolted on, and other body parts damaged by accident can be separated in sections and replaced by part panels.
SUMMARY Bedford's decision to change an already winning formula after only two years has certainly paid off. The Mk II Astra van has a comfortable ride, good handling and above all, when fitted with the. 1.6-litre GM diesel, excellent fuel economy.
Previous criticism of its body size and payload capacity have now been answered with the arrival of the Astramax, which will clearly appeal to large fleet buyers.
But for the operator who is not so concerned with maximum cube and payload the standard Astra still has more than enough to offer.