BATTLING JONES ANTICIPATES D-DA\
31st August 1985
Page 24
Page 25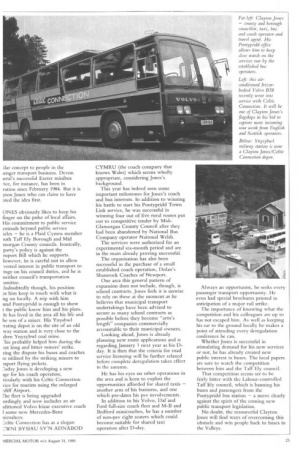 Page 24, 31st August 1985 —
BATTLING JONES ANTICIPATES D-DA\
Close
The battles of South Wales operator Clayton Jones to win the right to run local bus services have been well-documented in the news pages of CM in recent months. Now Noel Miller finds out what the irrepressible Welsh opportunist is planning next
WELSH passenger transport operator Clayton Jones is an entrepreneur in the Government's best "on-your-bike" tradition.
He has not been slow to identify opportunities. When Cardiff airport was developed to handle wide-bodied aircraft he saw new potential for coach services for an increasing volume of in-coming tourists.
Exploiting the remoteness of some Welsh communities, he started to run shopping specials to hypermarkets. And, anticipating bus deregulation, he is providing local bus services.
It is in this area that Clayton Jones in June this year won a major battle after long and stiff opposition from local authorities and the Traffic Commissioners. He first applied to run stage carriage routes in Pontypridd in 1983, when Taff Ely Borough Council and Mid-Glamorgan County Council both opposed him.
In Jones's view the deficit of around £410,000 a year incurred by the Taff Ely municipal fleet of 26 vehicles should not occur. That it does, he argues, is due to falling demand aggravated by higher fares and restrictive practices by the workforce.
The three new Town Link services which he has won permission to start are expected to be profitable on a 20p flat fare and no subsidy. They will run on circular routes in Pontypridd and use Mercedes-Benz 20-seat tnidicoaches. He cosiders these to be more suited to the narrow and hilly streets and roads in the area where they will penetrate deeper into housing areas where low bridges (some as low as 2.6m) bar the 11.3m long Taff Ely Nationals.
Services should have started earlier this month, but they have been delayed because ticket and farcbox equipment from Control Systems of Uxbridge failed to arrive on time. Bus stop sig are already in position.
Operation will be in areas deemed socially desirable but uneconomic by council transport department. Its transport manager George Wilson is record as saying that the new Clayto Jones routes will be unduly circuitou for passengers.
The county also felt the services conflicted with its anti-privatisation public transport network support policies, but the objectors failed to convince the Traffic Commissioners the Clayton Jones routes were agains the public interest. And even though commissioners accepted that they Nur abstract revenue from the subsidised borough bus fleet, the 1981 Act did require them to refuse an application because it did not fit in with county transport policies.
Low-cost circular services based or mini or midibuses are now a fairly ONES obviously likes to keep his finger on the pulse of local affairs. His commitment to public service extends beyond public service ides — he is a Plaid Cymru member ioth Taff Ely Borough and Mid morgan County councils. Ironically, party's policy is against the nsport Bill which he supports. lowever, he is careful not to allow vested interest in public transport to inge on his council duties, and he is neither council's transportation amittec.
indoubtedly though, his position as him keep in touch with what is ng on locally. A trip with him und Pontypridd is enough to show t the public know him and his plans_ le has lived in the area all his life and he son of a miner. His Ynysbwl !rating depot is on the site of an old way station and is very close to the dern Ynysybwl coal mine.
his probably helped him during the :nt long and bitter miners' strike. ring the dispute his buses and coaches re utilised by the striking miners to isport flying pickets.
7oday Jones is developing a new ige for his coach operation,
ticularly with his Celtic Connection vice for tourists using the enlarged 7diff Airport.
Ate fleet is being upgraded ordingly and now includes an air iditioned Volvo Irizar executive coach some new Mercedes-Benz nicoahces.
1:eltic Connection has as a slogan 2WNI BYSIAU SY'N ADNABOD CYMRU (the coach company that knows Wales) which seems wholly appropriate, considering Jones's background.
This year has indeed seen some important milestones for Jones's coach and bus interests. In addition to winning his battle to start his Pontypridd Town Link service, he was successful in winning four out of five rural routes put out to competitive tender by MidGlamorgan County Council after they had been abandoned by National Bus Company operator National Welsh.
The services were authorised for an experimental six-month period and are in the main already proving successful.
The organisation has also been successful in the purchase of a small established coach operation, Dolan's Shamrock Coaches of Newport.
One area this general pattern of expansion does not include, though, is school contracts. Jones feels it is unwise to rely on these at the moment as he believes that municipal transport undertakings have been advised to secure as many school contracts as possible before they become "arm's length" companies commercially accountable to their municipal owners.
Looking ahead, Jones is already planning new route applications and is regarding January 1 next year as his Dday. It is then that the criteria for road service licensing will be further relaxed before complete deregulation takes effect in the autumn.
He has his eyes on other operations in the area and is keen to exploit the opportunities afforded for shared taxis — another arm of his business, and one which pre-dates his psv involvements.
In addition to his Volvo, Daf and Ford full-size coach fleet and M-B and Bedford minicoaches, he has a number of non-psv eight seaters which could become suitable for shared taxi operation after D-day. Always an opportunist, he seeks every passenger transport opportunity. He even had special brochures printed in anticipation of a major rail strike.
The importance of knowing what the competition and his colleagues are up to has not escaped him. As well as keeping his ear to the ground locally he makes a point of attending every deregulation conference he can.
Whether Jones is successful in stimulating demand for his new services or not, he has already created new public interest in buses. The local papers are sure to watch the competition between him and the Taff Ely council.
That competition seems set to be fairly bitter with the Labour-controlled Taff Ely council, which is banning his buses and passengers from the Pontypridd bus station — a move clearly against the spirit of the coming new public transport legislation.
No doubt, the resourceful Clayton Jones will find ways of overcoming this obstacle and win people back to buses in the Valleys.