F ORTY coaches at a time can be handled comfortably at
31st August 1985
Page 23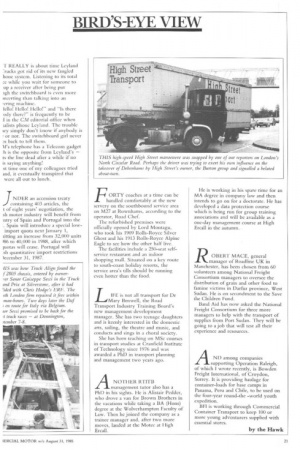 Page 23, 31st August 1985 —
F ORTY coaches at a time can be handled comfortably at
Close
the new servery on the southbound service area on M27 at Rownhams, according to the Operator, Road Chef.
The refurbished premises were officially opened by Lord Montagu, who took his 1909 Rolls-Royce Silver Ghost and his 1913 Rolls-Royce Alpine Eagle to see how the other half live.
The facilities include a 250-seat selfservice restaurant and an indoor shopping mall. Situated on a key route to south-coast holiday resorts, the service area's tills should be running even hotter than the food.
I4114E is not all transport for Dr Mary Benwell, the Road Transport Industry Training Board's new management development
manager. She has two teenage daughters and is keenly interested in the domestic arts, sailing, the theatre and music, and conducts and sings in a choral society.
She has been teaching on MSc courses in transport studies at Cranfield Institute of Technology since 1976 and was awarded a PhD in transport planning and management two years ago.
NOTHER RTITB management tutor also has a PhD in his sights. He is Alistair Pedder, who drove a van for Brown Brothers in the vacations while taking a BA (Hons) degree at the Wolverhampton Faculty of Law. Then he joined the company as a trainee manager and, after two more moves, landed at the Motec at High Ercall. He is working in his spare time for an MA degree in company law and then intends to go on for a doctorate. He has developed a data protection course which is being run for group training associations and will be available as a one-day management course at High Ercall in the autumn.
ROBERT MACE, general manager of Roadline UK in Manchester, has been chosen from 60 volunteers among National Freight Consortium managers to oversee the distribution of grain and other food to famine victims in Darfur province, West Sudan. He is on secondment to the Save the Children Fund.
Band Aid has now asked the National Freight Consortium for three more managers to help with the transport of supplies from Port Sudan. They will be going to a job that will test all their experience and resources.
AN]) among companies supporting Operation Raleigh, of which I wrote recently, is Bowden Freight International, of Croydon, Surrey. It is providing haulage for container-loads for base camps in Panama, Peru and Chile, to be used on the four-year round-the -world youth expedition.
BEI is working through Commercial Container Transport to keep 100 or more young adventurers supplied with essential stores.
by the Hawk