A NEW NORMALITY FOR TIPPERMEN
31st August 1985
Page 20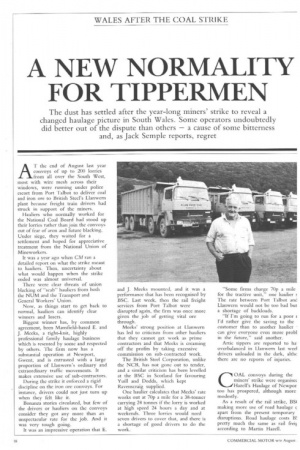 Page 21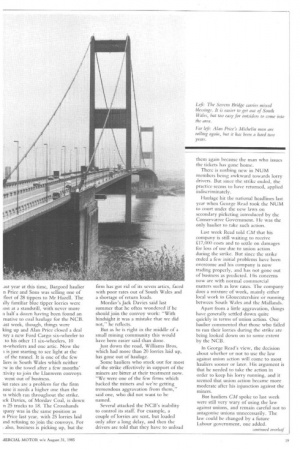 Page 22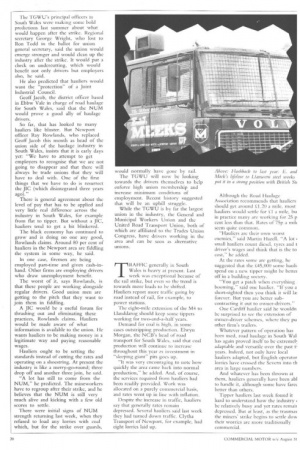 Page 23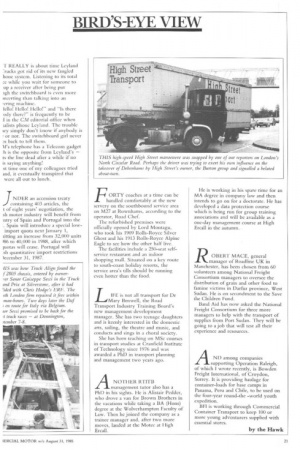 Page 20, 31st August 1985 —
A NEW NORMALITY FOR TIPPERMEN
Close
The dust has settled after the year-long miners' strike to reveal a changed haulage picture in South Wales. Some operators undoubtedly did better out of the dispute than others — a cause of some bitterness and, as Jack Semple reports, regret
AT the end of August last year convoys of up to 200 lorries from all over the South West, most with wire mesh across their windows, were running under police escort from Port Talbot to deliver coal and iron ore to British Steel's Llanwern plant because freight train drivers had struck in support of the miners.
Hauliers who normally worked for the National Coal Board had stood up their lorries rather than join the convoys out of fear of aron and future blacking. Under siege, they waited for a settlement and hoped for appreciative treatment from the National Union of Mineworkers.
It was a year ago when CM ran a detailed report on what the strike meant to hauliers. Then, uncertainty about what would happen when the strike ended was almost universal.
There were clear threats of union blacking of "scab" hauliers from both the NUM and the Transport and General Workers' Union.
Now, as things start to get back to normal, hauliers can identify clear winners and losers.
Biggest winner has, by common agreement, been Mansfield-based E. and J. Meeks, a tight-knit, highly professional family haulage business which is resented by some and respected by others. The firm now has a substantial operation at Newport, Gwent, and is entrusted with a large proportion of Llanwern's ordinary and extraordinary traffic movements. It makes extensive use of sub-contractors.
During the strike it enforced a rigid discipline on the iron ore convoys. For instance, drivers could not just turn up when they felt like it.
Bonanza stories circulated, but few of the drivers or hauliers on the convoys consider they got any more than an unspectacular rate for the job. And it was very tough going.
It was an impressive operation that E. and J. Meeks mounted, and it was a performance that has been recognised by BSC. Last week, then the rail freight services from Port Talbot were disrupted again, the firm was once more given the job of getting vital ore through.
Meeks' strong position at Llanwern has led to criticism from other hauliers that they cannot get work as prime contractors and that Meeks is creaming off the profits by taking excessive commission on sub-contracted work.
The British Steel Corporation, unlike the NCB, has not gone out to tender, and a similar criticism has been levelled at the BSC in Scotland for favouring Yuill and Dodds, which kept Ravenscraig supplied.
One haulier calculates that Meeks' rate works out at 70p a mile for a 38-tonner carrying 24 tonnes if the lorry is worked at high speed 24 hours a day and at weekends. Three lorries would need seven drivers to cover that, and there is a shortage of good drivers to do the work. "Some firms charge 70p a mile for the tractive unit," one haulier The rate between Port Talbot and Llanwern would not be too bad but a shortage of backloads.
"If I'm going to run for a poor t I'd rather give the saving to the customer than to another haulier • can give everyone even more probl in the future," said another.
Artic tippers are reported to ha' overbalanced in Llanwern last wedl drivers unloaded in the dark, althc there are no reports of injuries.
COAL convoys during the miners' strike were organisec Hazell's Haulage of Newpor too has prospered, although more modestly.
As a result of the rail strike, BS( making more use of road haulage c apart from the present temporary disruptions. Road haulage costs 13: pretty much the same as rail freif according to Martin Hazell. ,ast year at this time, Bargocd haulier n Price and Sons was selling one of fleet of 28 tippers to Mr Hazel!. The illy familiar blue tipper lorries were Lost at a standstill, with never more a half a dozen having been found an rnative to coal haulage for the NCB. .ast week, though, things were king up and Alan Price closed a deal )uy a new Ford Cargo six-wheeler to to his other 11 six-wheelers, 10 it-wheelers and one artic. Now the a is just starting to see light at the of the tunnel. It is one of the few hers in South Wales which neither :w in the towel after a few months' :tivity to join the Llanwem convoys went out of business.
lut rates are a problem for the firm ause it needs a higher one than the is which ran throughout the strike. ick Davies, of Mordav Coal, is down n 25 trucks to 18. The Crosshands ipany was in the same position as n Price last year, with 25 lorries laid ind refusing to join the convoys. For . also, business is picking up, but the firm has got rid of its seven artics, faced with poor rates out of South Wales and a shortage of return loads.
Mordav's Jack Davies said last summer that he often wondered if he should join the convoy work: "With hindsight it was a mistake that we did not," he reflects.
But as he is right in the middle of a small mining community this would have been easier said than done.
Just down the road, Williams Bros, which had more than 20 lorries laid up, has gone out of haulage.
Some hauliers who stuck out for most of the strike effectively in support of the miners are bitter at their treatment now. "We were one of the few firms which backed the miners and we're getting tremendous aggravation from them," said one, who did not want to be named.
Several attacked the NCB's inability to control its staff. For example, a couple of lorries are sent, but loaded only after a long delay, and then the drivers arc told that they have to unload them again because the man who issues the tickets has gone home.
There is nothing new in NUM members being awkward towards lorry drivers. But since the strike ended, the practice seems to have returned, applied indiscriminately.
Haulage hit the national headlines last year when George Read took the NUM to court under the new laws on secondary picketing introduced by the Conservative Government. He was the only haulier to take such action.
Last week Read told CM that his company is still waiting to receive S:17,000 costs and to settle on damages for loss of use due to union action during the strike. But since the strike ended a few initial problems have been overcome and his company is now trading properly, and has not gone out of business as predicted. His concerns now are with normal commercial matters such as low rates. The company does a mixture of work, mainly either local work in Gloucestershire or running between South Wales and the Midlands.
Apart from a little aggravation, things have generally settled down quite quickly in terms of union action. One haulier commented that those who failed to run their lorries during the strike are being looked down on to some extent by the NCB.
In George Read's view, the decision about whether or not to use the law against union action will come to most hauliers sooner or later. His argument is that he needed to take the action in order to keep his lorry running, and it seemed that union action became more moderate after his injunction against the miners.
But hauliers CM spoke to last week were still very wary of using the law against unions, and remain careful not to antagonise unions unnecessarily. The law could be changed by a future Labour government, one added. The TGWU's principal officers in South Wales were making sonic bold predictions last summer about what would happen after the strike. Regional secretary George Wright, who lost to Ron Todd in the ballot for union general secretary, • said the union Would emerge stronger and would clean up the industry after the strike. It would put a check on undercutting, which would benefit not only drivers but employers also, he said.
He also predicted that. hauliers would want the "protection" of a Joint Industrial Council.
Geoff Jacob, the district officer based in Ebbw Vale in charge of road haulage for South Wales, said that the NUM would prove a good ally of haulage drivers.
So far, that has looked to many hauliers like bluster. But Newport officer Ray Rowlands, who replaced Geoff Jacob this month as head of the union side of the haulage industry in South Wales, insists that it is early days yet: "We have to attempt to get employers to recognise that we are not going to disappear and that there will always be trade unions that they will have to deal with. One of the first things that we have to do is resurrect the JIC (which disintegrated three years ago)."
There is general agreement about the level of pay that has to be applied and very little real difference across the industry in South Wales, for example from flat to tipper. But without a JIC, hauliers tend to get a bit blinkered.
The black economy has continued to grow and is doing no one any good, Rowlands claims. Around 80 per cent of hauliers in the Newport area are fiddling the system in some way, he said.
In one case, firemen are being employed part-time and given cash-inhand. Other firms are employing drivers who draw unemployment benefit.
The worst of it, says Rowlands, is that these people are working alongside regular drivers. Good union men are getting to the pitch that they want to join them in fiddling.
A JIC would be a useful forum for thrashing out and eliminating these practices, Rowlands claims. Hauliers would be made aware of what information is available to the union. He wants hauliers to be making money in a legitimate way and paying reasonable wages.
Hauliers ought to be setting the standards instead of cutting the rates and operating on a shoestring. At present the industry is like a merry-go-round; three drop off and another three join, he said.
"A lot has still to conic from the NUM," he predicted. The mineworkers have to regroup after their strike, and he believes that the NUM is still very much alive and kicking with a few old scores to settle.
There were initial signs of NUM strength returning last week, when they refused to load any lorries with coal which, but for the strike over guards, would normally have gone by rail.
The TGWU will now be looking towards the drivers themselves to help enforce high union membership and increase minimum conditions of employment. Recent history suggested that will be an uphill struggle.
While the TGWU is by far the largest union in the industry, the General and Municipal Workers Union and the United Road Transport Union, both of which are affiliated to the Trades Union Congress, have drivers working in the area and can be seen as alternative unions.
TRAFFIC generally in South Wales is heavy at present. Last week was exceptional because of the rail strike, but even so the trend is towards more loads to be shifted. Hauliers report more traffic going by road instead of rail, for example, to power stations.
The eight-mile extension of the M4 to Llanddarog should keep some tippers working for two-and-a-half years.
Demand for coal is high, in some cases outstripping production. Elwyn Morgan, the NCB's head of road transport for South Wales, said that coal production will continue to increase throughout this year as investment in "sleeping giant" pits goes up.
"It was very encouraging to note how quickly the area came back into normal production," he added. And, of course, the services required from hauliers had been readily provided. Work was allocated on a purely commercial basis, and rates went up in line with inflation.
Despite the increase in traffic, hauliers say that generally rates remain depressed. Several hauliers said last week they had turned down traffic. Clytha Transport of Newport, for example, had eight lorries laid up. Although the Road Haulage Association recommends that hauliers should get around E1.20 a mile, most hauliers would settle for a mile, bu in practice many arc working for 25 p cent less than that. Rates of 75p a milt seem quite common.
"Hauliers arc their own worst enemies," said Martin Hazen. "A lot small hauliers count diesel, tyres and t driver's wages and think that is the to cost," he added.
At the rates some are getting, he suggested that the £45,000 some hauls spend on a new tipper might he bettei off in a building society.
"You get a patch when everything : booming," said one haulier. "If you a short-sighted then you think it will la! forever. But you are better subcontracting it out to owner-drivers."
One Cardiff haulier said he wouldn be surprised to see the extension of owner-driver schemes, where they pu other firm's trailers.
Whatever pattern of operation has been used, road haulage in South Walhas again proved itself to be extremell adaptable and versatile over the past t' years. Indeed, not only have local hauliers adapted, but English operator lorries have crossed the Severn into th area in large numbers.
And whatever has been thrown at them, hauliers generally have been abl to handle it, although some have fare( better than others.
Tipper hauliers last week found it hard to understand how the industry be relatively busy and yet rates remair depressed_ But at least, as the traumas the miners' strike begins to settle dow their worries are more traditionally commercial.
T REALLY is about time Leyland :rucks got rid of its new fan gled hone system. Listening to its total :e while you wait for someone to up a receiver after being put sgh the switchboard is even more incerting than talking into an ,ering machine.
kilo! Hello! Hello!" and "Is there ody there?" is frequently to be i in the CM editorial office when salists phone Leyland. The trouble icy simply don't know if anybody is or not. The switchboard girl never t..s back to tell them.
Yrs telephone has a Telecom gadget it is the opposite from Leyland's — ts the line dead after a while if no is saying anything!
st time one of my colleagues tried and, it eventually transpired that were all out to lunch.
JNDER an accession treaty containing 403 articles, the t of eight years' negotiation, the sh motor industry will benefit from ntry of Spain and Portugal into the
Spain will introduce a special lowimport quota next January 1, sitting an increase irons 32,0(X) units )86 to 40,000 in 1988, after which pintas will cease. Portugal will .sh quantitative import restrictions )ecember 31, 1987.
US was how Truck Align found the
2805 chassis, entered by ownerset Senor Guiseppe Seed in the Truck and Prix at Silverstone, after it had 'ided with Chris Hodge 'a ERF. The ath London _firm repaired it free within man-hours. Two days later the Daf ; en route for Italy via Belgium. tor Seed promised to be back for the :t truck races — at Donnington, ?tember 7-8.
Tags
Organisations
:
Labour government
,
Congress
,
General Workers' Union
,
National Union
,
Joint Industrial Council
,
United Road Transport Union
,
NUM
,
Road Haulage Association
,
Transport and General Workers' Union
,
National Coal Board
,
Conservative Government
,
Municipal Workers Union
People
:
Martin Hazen
,
Hazel
,
Martin Hazell
,
Ron Todd
,
Ray Rowlands
,
Elwyn Morgan
,
George Read
,
Jack Davies
,
Geoff Jacob
,
Jack Semple
,
George Wright