WHAT PRICE STAR RATING?
31st August 1985
Page 18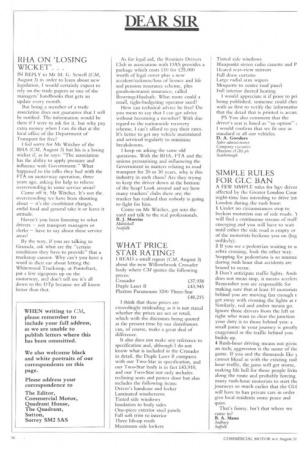 Page 18, 31st August 1985 —
WHAT PRICE STAR RATING?
Close
I READ a small report (CM, August 3) about the new Willowbrook Crusader body where CM quotes the following prices: Crusader £37,938 Duple Laser II £43,945 Plaxton Paramount 3200 Three-Star £48,215 I think that these prices are exceedingly misleading as it is not stated whether the prices are net or retail, which with the discounts being quoted at the present time by our distributors can, of course, make a great deal of difference.
It also does not make any reference to specification and, although I do not know what is included in the Crusader in detail, the Duple Laser II compares with our Two-Star in specification, and our Two-Star body is in fact £43,910, and our Two-Star not only includes reclining seats and power door but also includes the following items: Driver's handcase and locker Laminated windscreens Tinted side windows Insulation to body sides One-piece exterior steel panels Full soft trim to interior Three lift-up roofs Maximum side lockers Tinted side windows Blaupunkt stereo radio cassette and P Heated rear-view mirrors Full draw curtains Large radial arm wipers Moquette to centre roof panel Full interior ducted heating I would appreciate it if prior to pri being published, someone could chec with us first to verify the informatim that the detail that is printed is accun PS You also comment that the driver's seat is listed as "an option" z I would confirm that we fit one as standard in all our vehicles.
D. A. Goodare
Sales administrator Company executive Plaxtons (GB) plc Scarborough