SIMPLE RULES FOR GLC BAN
31st August 1985
Page 18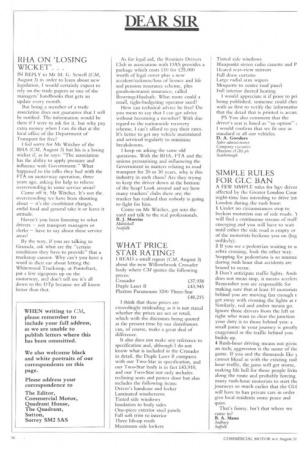 Page 18, 31st August 1985 —
SIMPLE RULES FOR GLC BAN
Close
A FEW SIMPLE rules for hgv driver affected by the Greater London Gout: night-time ban intending to drive int, London during the rush hour: 1 Under no circumstances stop to beckon motorists out of side roads. will find a continuous stream of traffi emerging and you will have to wait until either the side road is empty or of the motorists beckons you on (big unlikely).
2 If you see a pedestrian waiting to u zebra crossing, look the other way. Stopping for pedestrians is so unusua during rush hour that accidents are bound to occur.
3 Don't anticipate traffic lights. Amb, does not mean stop, it means accelera Remember you are responsible for making sure that at least 10 motorists behind you are moving fast enough t,
get away with crossing the lights at r Similarly, red and amber means go.
Ignore those drivers from the left or right who want to clear the junction your duty is to those behind you: a small pause in your journey is greatly exagerated as the traffic behind you builds up.
4 Rush-hour driving means not givin: an inch; aggression is the name of thc
game. If you and the thousands like y cannot blend in with the existing rust.
hour traffic, the jams will get worse, making life hell for those people livin along the route and probably forcing many rush-hour motorists to start tht journeys so much earlier that the GL( will have to ban private cars in order give local residents some peace and quiet.
That's funny. Isn't that where we came in?
B. A. Mann
Sudbury Suffolk