RHA ON 'LOSING WICKET'. . .
31st August 1985
Page 18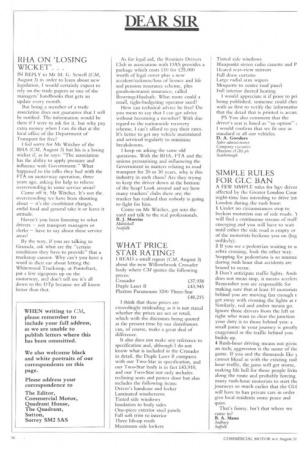 Page 18, 31st August 1985 —
RHA ON 'LOSING WICKET'. . .
Close
IN REPLY to Mr M. G. Sewell (CM, August 3) in order to learn about new legislation, I would certainly expect to rely on the trade papers or one of the managers' handbooks that gets an update every month.
But being a member of a trade association does not guarantee that I will be notified. The information would be there if 1 were to ask for it, but why pay extra money when I can do that at the local office of the Department of Transport for free?
I feel sorry for Mr Witcher of the RHA (CM, August 3) but his is a losing wicket if, as he says: "The association has the ability to apply pressure and influence with Government." What happened to the talks they had with the FTA on motorway operation, three years ago, asking for help to relieve overcrowding in sonic service areas?
Come off it, !V1,r Witcher, It's not the overcrowding we have been shouting about — it's the exorbitant charges, awful food and general take it or leave it attitude.
Haven't you been listening to what drivers — not transport managers or clerks — have to say about these service areas?
By the way, if you are talking to Granada, ask what are the "certain conditions they have to provide" that a truckstop cannot. Why can't you have a word in their car about letting the Whitewood Truckstop, at Pontefract, put a few signposts up on the motorway, and don't tell me it's all down to the DTp because we all know better than that. As for legal aid, the Routiers Drivers Club in association with DAS provides a package which costs £10 for £25,000 worth of legal cover plus a new accident/sickness/loss of licence and life and pension insurance scheme, plus goods-in-transit insurance, called Bowring-Haulsafe. What more could a small, tight-budgeting operator need? How can technical advice be free? Do you mean to say that I can get advice without becoming a member? With due regard to the nationwide recovery scheme, I can't afford to pay their rates. It's better to get my vehicle maintained and serviced regularly to minimise breakdowns.
I keep on asking the same old questions. With the RHA, FTA and the unions pressurising and influencing the Government in matters relating to road transport for 20 or 30 years, why is this industry in such chaos? Are they trying to keep the driver down at the bottom of the heap? Look around and see how many truckers' clubs there are; the trucker has realised that nobody is going to fight for him.
Come on Mr Witcher, get into the
yard and talk to the real professionals. R. J. Morriss
Mattishall Norfolk