hg-bodied Astramax
31st August 1985
Page 17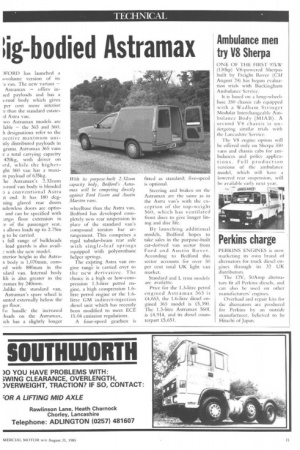 Page 17, 31st August 1985 —
hg-bodied Astramax
Close
)F(i)R1) has launched a i-volume version of its .a van. The new variant Astramax offers inseci payloads arid has a i-roof body which gives per cent more interior :e than the standard estatexl Astra van.
wo Astramax models are lable the 365 and 56o. h designations refer to the ective maximum uninly distributed payloads in grams. Astramax 365 vans
e a total carrying capacity 420kg, with driver on ird, while the higherght 560 van has a maxim payload of 635 kg.
Astramax's 2.32cum a-roof van body is blended • a conventional Astra it end. It has 180 degning glazed rear doors ndowless doors arc optioand can be specified with :argo floor extension in :e of the passenger seat. s allows loads up to 2.75m g to be carried.
full range of bulkheads load guards is also availwith the new model.
nterior height in the Astra • body is 1,070rnm, corn ed with 880mm in the idard van. Internal body lth is also greater in the :ramax by 240rnm.
Jnlike the standard van, Astramax's spare wheel is ,unted externally below the go floor.
lo handle the increased doads on the Astramax, ich has a slightly longer
With its purpose-built 2..32cum capacity body, Bedford's Astramax will be competitN directly against Ford Escort and Austin Maestro vans.
wheelbase than the Astra van, Bedford has developed completely new rear suspension in place of the standard van's compound torsion bar arrangement. This comprises a rigid tubular-beam rear axle with single-leaf springs equipped with polyurethane helper springs.
The existing Astra van engine range is carried over to the new derivative. The choice is a high or low-compression 1.3-litre petrol engine, a high compression 1.6litre petrol engine or the 1.6litre GM indirect-injection diesel unit which has recently been modified to meet ECE 15.04 emission regulations.
A four-speed gearbox is fitted as standard; live-speed is optional.
Steering and brakes on the Astramax are the same as in the Astra van's with the exception of the top-weight 560, which has ventilated front discs to give longer lining and disc life.
By launching additional models, Bedford hopes to take sales in the purpose-built car-derived van sector from Ford and Austin Rover. According to Bedford this sector accounts for over 50 per cent total UK light van market.
Standard and L trim models are available.
Price for the 1.3-litre petrol engined Astramax 365 is i:4,653, the 1.6-litre diesel engined 365 model is X:5,390. The 1.3-litre Astramax 360L is 8;4,914, and its diesel counterpart £5,651.