New firm enter fwd conversion up to 16 tonne;
31st August 1985
Page 16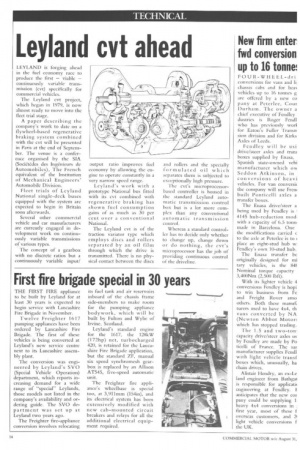 Page 16, 31st August 1985 —
New firm enter fwd conversion up to 16 tonne;
Close
FOUR-WHEEL-dri conversions for vans and Ii chassis cabs and for heal.
vehicles up to 16 tonnes g are offered by a new co
pany at Peterlee, Cour Durham. The owner a chief executive of Fendley
dustries is Roger Fencll who has previously wonl for Eaton's Fuller Transrr sion division and for Kirks Axles of Leeds.
Fendley will be usi drive/steer axles and trans boxes supplied by Enasa, Spanish state-owned vehi manufacturer which ow Seddon Atkinson, in conversions of heavi vehicles. For van conversi< the company will use Frern built Ponticelli axles a transfer boxes.
The Enasa drive/steer a being used by Fendley is I 4145 hub-reduction mod. with a capacity of 6.5 toxin. made in Barcelona. One the modifications carried c to the axle at Peterlee is to! place an eight-stud hub w: Fendley's own 10-stud hub.
The Enasa transfer bc originally designed for mi vary vehicles, is the 84 Nominal torque capacity 3,400Nin (2,500 lbft).
With its lighter vehicle 4 conversions Fendley is hopi to win business from Fe and Freight Rover amo others. Both these manuE curers used to have 4x4, th vans converted by NA (Newton Abbot Motor: which has stopped trading.
The 1.5 and two-ton: capacity drive/steer axles us by Fendley are made by Po ticelli of France. The sat manufacturer supplies Fendl with light vehicle transf boxes which, unusually, ha chain drives, Alistair Hendry, an ex-Le land engineer from Bathgai is responsible for applicati( engineering at Fendley. anticipates that the new cor pany could be supplying 1. heavy 4x4 conversions in first year, most of these f overseas customers, and 21 light vehicle conversions f the UK.