First fire brigade special in 30 years
31st August 1985
Page 16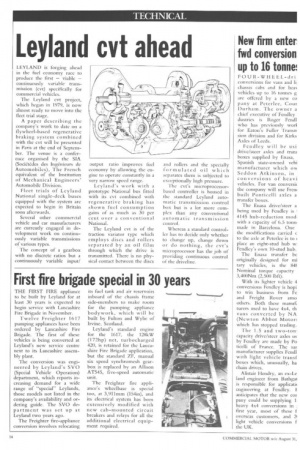 Page 16, 31st August 1985 —
First fire brigade special in 30 years
Close
THE FIRST FIRE appliance to be built by Leyland for at least 30 years is expected to begin service with Lancashire Fire Brigade in November.
Twelve Freighter 1617 pumping appliances have been ordered by Lancashire Fire Brigade. The first of these vehicles is being converted at Leyland's new service centre next to its Lancashire assembly plant.
The conversion was engineered by Leyland's SVO (Special Vehicle Operation) department, which reports increasing demand for a wide range of "special" Leylands, those models not listed in the company's availability and ordering guide. The SVO department was set up at Leyland two years ago.
The Freighter fire-appliance conversion involves relocating its fuel tank and air reservoirs inboard of the chassis frame side-members to make room for the pumping appliance bodywork, which will be built by Fulton and Wylie of Irvine, Scotland.
Leyland's standard engine for the 1617, the 128kW (172hp) net, turbocharged 420, is retained for the Lancashire Fire Brigade application, but the standard ZF, manual six speed synchromesh gearbox is replaced by an Allison AT545, five-speed automatic unit.
The Freighter fire appliance's wheelbase is special too, at 3,911mm (154in), and its electrical system has been extensively modified with new cab-mounted circuit breakers and relays for all the additional electrical equipment required.