iivestock haulier fine
31st August 1985
Page 13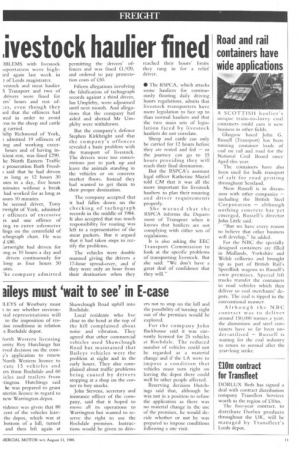 Page 13, 31st August 1985 —
iivestock haulier fine
Close
MLEMS with livestock isportation were highted again last week in t of Leeds magistrates.
vestock and meat haulier S Transport and two of drivers were fined for ers' hours and rest of:es, even though they led that the offences had ired in order to avoid TSS to the sheep and cattle g carried.
ailip Richmond of York, admitted 19 offences of ing and working exceshours and of having inicient rest, was fined .290. he North Eastern Traffic a prosecution Ruth Freedsaid that he had driven as long as 12 hours 30 utes in a day, five hours minutes without a break had worked for as long as Lours 10 minutes.
he second driver, Tony twright of York, admitted r offences of excessive rs and one offence of ing to enter odometer lings on the centrefield of ichograph chart. He was d £80.
Iartwright had driven for :ing as 10 hours a day and driven continuously for long as four hours 50 .utes.
'he company admitted permitting the drivers' offences and was fined .£.1,920, and ordered to pay prosecution costs o150.
Fifteen allegations involving the falsification of tachograph records against a third driver, Ian Umpleby, were adjourned until next month. And allegations that the company had aided and abetted Mr Umpleby were withdrawn.
But the company's defence Stephen Kirkbright said that the company's offences revealed a basic problem with the transport of livestock. The drivers were too conscientious just to park up and leave the animals standing in the vehicles or on concrete market floors. Instead they had wanted to get them to their proper destination.
The company accepted that it had fallen down on the checking of tachograph records in the middle of 1984. It also accepted that too much responsibility for routing was left to a representative of the meat packers. But it argued that it had taken steps to rectify the problems.
The vehicles were double manned giving the drivers a 17-hour spread-over, and if they were only an hour from their destination when they reached their hours' limits they rang in for a relief driver.
• The RSPCA, which attacks some hauliers for continuously flouting daily driving hours regulations, admits that livestock transporters have more legislation to face up to than normal hauliers and that the two main sets of legislation faced by livestock hauliers do not correlate.
Sheep and cattle can only be carried for 12 hours before they are rested and fed — or the journey can go to 15 hours providing they will reach their final destination.
But the RSPCA's assistant legal officer Katherine Muriel told GM that it was all the more important for livestock hauliers to plan their routeing and driver requirements properly.
She warned that the RSPCA informs the Department of Transport when it knows that hauliers are not complying with either sets of regulations.
It is also asking the EEC Transport Commission to look at the specific problems of transporting livestock. But she said: "We don't have a great deal of confidence that they will."