3iieyS must 'wait to see' in E-case ILEYS of Westbury
31st August 1985
Page 13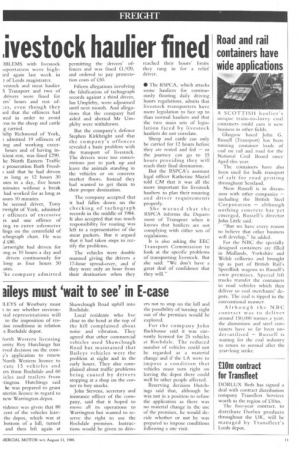 Page 13, 31st August 1985 —
3iieyS must 'wait to see' in E-case ILEYS of Westbury
Close
must t to see whether environital representations will to the imposition of resion conditions in relation
Rochdale depot.
Iorth Western licensing lority Roy Hutchings has rved decision on the comv's application to renew North Western licence to .rate 15 vehicles and ers from Rochdale and 60 ides and trailers from rington. Hutchings said be was prepared to grant nterim licence in regard to new Warrington .depot.
vidence was given that 80 cent of the vehicles leavthe depot, which was at bottom of a hill, turned and then left again at Shawclough Road uphill into Rochdale.
Local residents who live close to the bend at the top of the hill complained about noise and vibration. They agreed that other commercial vehicles used Shawclough Road but maintained that Baileys vehicles were the problem at night and in the early hours. They also complained about traffic problems being caused by drivers stopping at a shop on the corner to buy snacks.
John Stevens, secretary and insurance officer of the company, said that it hoped to move all its operations to Warrington but wanted to reserve the right to use the Rochdale premises. Instructions would be given to driv
ers not to stop on the hill and the possibility of turning right out of the premises would be explored.
For the company John Backhouse said it was currently licensed for 25 vehicles at Rochdale. The reduced number of vehicles could not be regarded as a material change and if the LA were to impose a condition that vehicles must turn right on leaving the depot there could well be other people affected.
Reserving decision Hutchings said that, although he was not in a position to refuse the application as there was no material change in the use of the premises, he would decide whether or not he was prepared to impose conditions following a site visit.