Cooper steers NBC's public affairs
31st August 1985
Page 12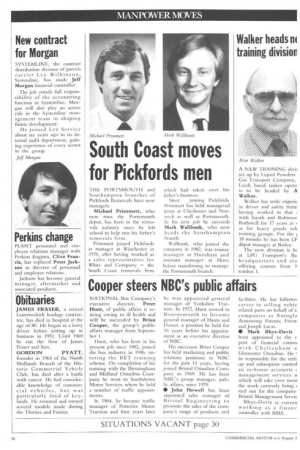 Page 12, 31st August 1985 —
Cooper steers NBC's public affairs
Close
NATIONAL Bus Company's executive director, Peter Hunt, of public affairs is retiring owing to ill health and will be succeeded by Brian Cooper, the group's public affairs manager from September 1.
Hunt, who has been in his present job since 1982, joined the bus industry in 1946, entering the BET training scheme. On completion of his training with the Birmingham and Midland Omnibus Company he went to Southdown Motor Services where he held a number of traffic appointments.
In 1964, he became traffic manager of Potteries Motor Traction and four years later he was appointed general manager of Yorkshire Traction. In 1972, Hunt moved to Bournemouth to become general manager of Hants and Dorset, a position he held for 10 years before his appointment as an executive director of NBC.
His successor Brian Cooper has held marketing and public relations positions in NBC for the past 15 years, having joined Bristol Omnibus Company in 1969. He has been NBC's group manager, public affairs, since 1979.
• John Howell has been appointed sales manager of Bristol Engineering to promote the sales of the company's range of products and
facilities. He has followe( career in selling vehic related parts on behalf of s. companies as Autogla Armstrong Patents, Firest, and Joseph Lucas.
• Mark Rhys-Davis been appointed to the post of financial contro with Cheltenham a Gloucester Onmibus. He be responsible for the setti up and subsequent control an in-house accounts management services u which will take over most the work currently being ( ried out for the company Bristol Management Servic Rhys-Davis is curren working as a financ controller with BIM.