Stroke-Bore Ratios Reduced : Crankshaft Speeds Increased
31st August 1951
Page 37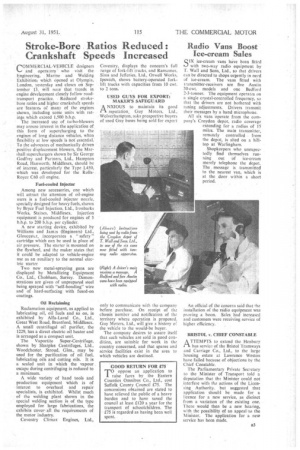 Page 37, 31st August 1951 —
Stroke-Bore Ratios Reduced : Crankshaft Speeds Increased
Close
.COMMERCIAL-VEHICLE designers and .operators who visit the Engineering. Marine and Welding ExhibitionF which opened at Olympia, London, yesterday and closes on September 13, still noie that • trends in engine development closely follow roadtransport practice. . Reduced strokebore, ratios and higher crankshaft speeds are features of many of the engines shown, including some units with ratings which exceed 1,500 b.h.p.
The increased use of turbo-blowers may arouse interest in the application of this form of supercharging to the engines of long distance Vehicles, wh'en flexibility at low speeds is not essential. To the advocates of mechanically driven positive displacement blowers, the Marshall superchargers shown by Sir George Godfrey and Partners, Ltd., Hampton Road, Hanworth, Middlesex, should he of interest, particularly the Type L450,. which was developed for the RollsRoyce C60 oil engine.
Fuel-cooled Injector Among new accessories, one which will attract the attention of oil-engine users is a fuel-cooled injector nozzle, specially designed for heavy fuels, shown by Bryce Fuel Injection, Ltd., Ironbarks Works, Staines, Middlesex. Injection equipment is produced for engines of 3 b.h.p. to 200 b.h.p per cylinder.
A new starting device, exhibited by Williams and James (Engineers) Ltd., Gloucesti.r, incorporates a " safety " cartridge which can be used in place of air pressure. The starter is mounted on the flywheel, and the maker states that it could be adapted to vehicle-engine use as an auxiliary to the normal electric starter Two new metal-spraying guns are • displayed by Metallizing Equipment Co., Ltd., Chobham, Surrey. Demonstrations are given of unprepared steel being sprayed with "self-bonding" wire and of hard-surfacing • with fused-on coatings.
• Oil Reclaiming
Reclamation equipment, as applied to lubricating oil, oil fuels and so on, is exhibited by Alfa-Laval Co., Ltd., Great West Road, Brentford, Middlesex. A small centrifugal oil purifier, the 1229, has a direct electric oil heater and is arranged as a compact unit.
The Vaportite Super-Centrifuge, shown by Sharpies Centrifuges, Ltd., Woodehester, Stroud, Glos., may be used for the purification of oil fuel, lubricating oils and cutting oils. It is a sealed unit in which the vapour escape during centrifuging is reduced to a minimum.
A wide variety of hand tools and production equipment which is of interest to overhaul and repair specialists, is exhibited. Whilst much of the welding plant shown in the special welding section is of the type employed for large fabrications, the exhibits cover all the requirements of the motor industry.
Coventry Climax Engines, Ltd., Coventry, displays the concern's full range of fork-lift trucks, and Ransomes. Sims and Iefferies, Ltd., Orwell Works, Ipswich, shows battery-operated forklift trucks with capacities from 10 cwt. to 2 tons.
USED GUYS FOR EXPORT: MAKER'S SAFEGUARD
A NXIOUS to maintain its good 1-1, reputation, Guy Motors, Ltd., Wolverharripton, asks prospective buyers of used Guy buses being sold for export only to communicate with the company before purchase. On receipt of the chassis -number and notification of the territory where operation is proposed, Guy Motors, Ltd., will give a history of the vehicle to the would-be buyer.
The company desires to assure itself that such vehicles are sold in good condition, are suitable for work in the country concerned, and that spares and service facilities exist in the area to which vehicles are destined.