Radio Vans Boost ice-cream Sales
31st August 1951
Page 37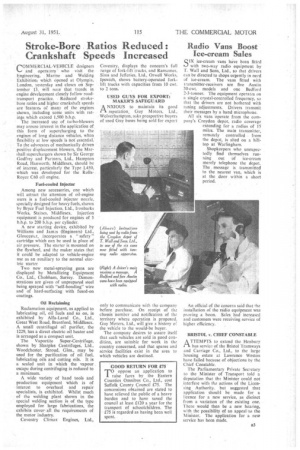 Page 37, 31st August 1951 —
Radio Vans Boost ice-cream Sales
Close
QIX ice-cream vans have been fitted kJ with two-way radio equipment by T. Wall and Sons, Ltd., so that drivers can be directed to skips urgently in need of ice-cream. The vans fitted with transmitter-receivers are five Austin 30-cwt. models and one Bedford 2-3-tonner. The equipment operates on a single crystal-controlled frequency, so that the drivers are not bothered with tuning adjustments. Drivers transmit their messages by a hand microphone. All six vans -operate from the company's Croydon depot, radio coverage extending for a radius of 15 miles. The main transmitter, remotely controlled from the depot, is sited on a hilltop at Warlingharn.
Shopkeepers who unexpectedly find themselves running out Of ice-cream merely telephone the depot. The message is transmitted to the nearest van, which is at the door within a short period.
An official of the concern said that the installation of the radio equipment was proving a boon. Sales had increased and customers were receiving service of higher efficiency.