TRAM WORKERS ADAPT THEMSELVES
31st August 1951
Page 36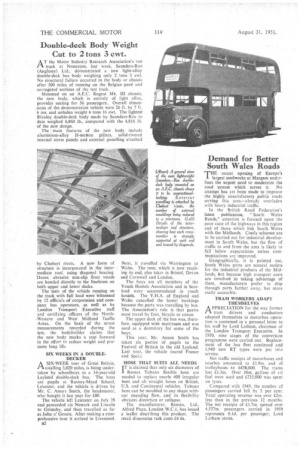 Page 36, 31st August 1951 —
TRAM WORKERS ADAPT THEMSELVES
Close
APPRECIATION for the way former tram drivers and conductors adapted themselves to motorbus operation is contained in a personal letter to his staff by Lord Latham, chairman of the London Transport Executive. In 1950, nine stages of the conversion programme were carried out. Replacement of the bus fleet continued and 1,940 new RT types were put into service.
Net traffic receipts of motorbuses and coaches amounted to £1.9m. and of trolleybases to £438,000. The trams lost £1.3m. Over 30m, gallons of cii fuel were used and £735,000 was spent on tyres.
Compared with 1949, the number cf passengers carried fell by 2 per cent. Total operating revenue was over £2m. less than in the previous 12 months_ The net receipts of 11.7m. spread over 4,537m.• passengers carried iri 1950 represents 0.1d. per passenger, Lord Latham stares.