Self-loading Antar 25-tonners
31st August 1951
Page 35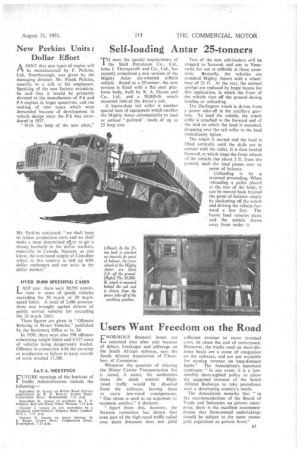 Page 35, 31st August 1951 —
Self-loading Antar 25-tonners
Close
TO meet the special requirements of the Shell Petroleum Co., Ltd., John I. Thornycroft and Co., Ltd., has recently completed a new version of the Mighty Antar six-wheeled oilfield vehicle. Rated as a 25-tonner, the new version is fitted with a flat steel platform body, built by R. A. Dyson and Co" Ltd., and a 50,000-lb. winch mounted behind the driver's cab.
A heavy-duty tail roller is another special item of equipment which enables the Mighty Antar automatically to load or unload " palleted'. loads of up to 25 long tons Two of the new self-loaders will be shipped to Sarawak and one to Venezuela for use in oilfields in those countries. Basically, the vehicles are standard Mighty Antars with a wheelbase of 21 ft. At the rear, the normal springs are replaced by bogie beams for this application, in which the front of the vehicle rises off the ground during loading or unloading.
The Darlington winch is driven from a power take-off in the auxiliary gearbox. To load the vehicle, the winch cable is attached to the forward end of the skid on which the load is mounted, dropping over the tail roller to the load immediately below.
The winch fs started and the load is lifted vertically until the skids are in contact with the roller. It is then hauled forward, at which stage the front wheels of the vehicle rise about 2 ft. from the ground, until the. load gasses over its point of balance.
Unloading is by a reversed proceeding. When unloading a pallet placed at the rear of the body, it can be moved back beyond the point of balance simply by slackening off the winch and driving the vehicle forward a few feet. The heavy load remains static and the vehicle draws away from under it.