One
31st August 1951
Page 31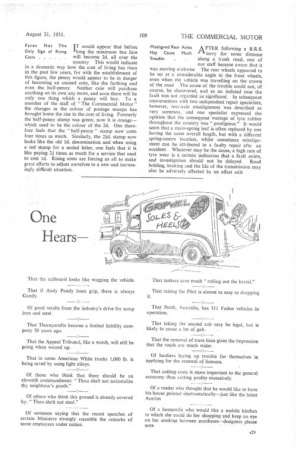 Page 31, 31st August 1951 —
One
Close
Hears— That the tailboard looks like wagging the vehicle.
That if Andy Pandy loses grip, there is always Gandy.
Of good results from the industry's drive for scrap iron and steel.
That Thornycrofts became a limited liability company 50 years ago.
That the Appeal Tribunal, like a watch, will still be going when wound. up.
That in some American White .trucks 1,000 lb. is being saved by using light alloys.
Of those who think that there should be an eleventh commandment: "Thou shalt not nationalize thy neighbour's goods."
Of others who think this ground is already covered by: "Thou shalt not steal."
Of someone saying that the recent speeches of certain Ministers strongly i esemble the remarks of some employees under notice. That tankers save much rolling out the barrel."
That raising the Pilot is almost as easy as dropping it.
That Perth, Australia, has 111 •Foden vehicles in operation.
That taking the second cab may be legal, but is likely to cause a lot of gab.
That the removal of tram lines gives the impression that the roads are much wider.
Of hauliers laying up trouble for themselves in applying for the renewal of licences.
That cutting costs is more important to the general economy than cutting profits excessively.
Of a reader who thought that he would like to have his house painted electrostatically—just like the latest Austins Of a housewife who would like a mobile kitchen in which she could do her shopping and keep an eye on her cooking between nurchases—designers please note.