Hand Brake Efficiency
31st August 1951
Page 30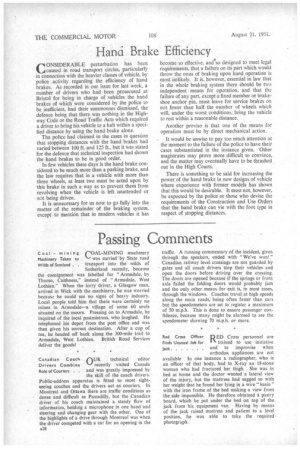 Page 30, 31st August 1951 —
Hand Brake Efficiency
Close
CONSIDERABLE perturbation has been caused in road transport circles, particularly in connection with the heavier classes of vehicle, by police activity regarding the efficiency of hand brakes. As recorded in our issue for last week, a number of drivers who had been prosecuted at Bristol for being in charge of vehicles the hand brakes of which were considered by the police to be inefficient, had their summonses dismissed, the defence being that there was nothing in the Highway Code or the Road Traffic Acts which required a driver to bring his vehicle to a halt within a specified distance by using the hand brake alone.
The police had claimed in the cases in question that stopping distances with the hand brakes had varied between 100 ft. and 125 ft., but it was stated for the defence that technical inspection had shown the hand brakes to be in good order.
In few vehicles these days is the hand brake considered to be much more than a parking brake, and the law requires that iii a vehicle with more than three wheels, at least two must be acted upon by this brake in such a way as to prevent them from revolving when the vehicle is left unattended or not being driven.
It is unnecessary for us now to go fully into the matter of the remainder of the braking system, except to mention that in modern vehicles it has become so effective, andaso designed to meet legal requirements, that a failure on its part which would throw the onus of braking upon hand operation is most unlikely. It is, however, essential in law that in the whole braking system there should be two independent means for operation, and that the failure of any part, except a fixed member or brake. shoe anchor pin, must leave for service brakes on not fewer than half the number of wheels which will, under the worst conditions, bring the vehicle to rest within a reasonable distance.
Another proviso is that one of the means for operation must be by direct mechanical action.
It would be unwise to pay too much attention at the moment to the failure of the police to have their cases substantiated in the instance given. Other magistrates may prove more difficult to convince, and the matter may eventually have to be thrashed out in the High Courts.
There is something to be said for increasing the power of the hand brake in new designs of vehicle where experience with former models has shown that this would be desirable. It must not, however, be expected by the police or those who devise the requirements of the Construction and Use Orders that the hand brake can vie with the foot type in respect of stopping distances.