2 Years of Successful Coach Operation
30th September 1932
Page 65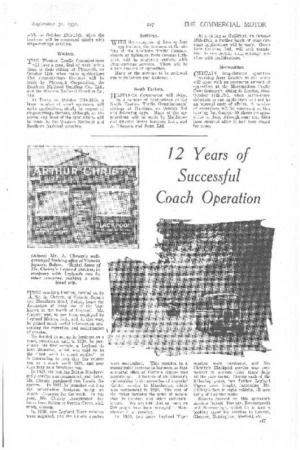 Page 65, 30th September 1932 —
2 Years of Successful Coach Operation
Close
mliE coaching business carried on by
Mr. A. Christy, of Victoria Square and Blackburn Road, Bolton, bears the distinction of being one of the bestknown in the North of England. Mr. Christy was, at one time, employed by Leyland Motors, Ltd., and, in this way, he gained much useful information concerning the operation and maintenance of coaches.
Re decided to set up in business as a coach proprietor, and, in 1920, he purchased his first vehicle, a Leyland de luxe 28-seater, which was said to be the "last word in smart outfits." It is interesting to note that this vehicle ran as a coach until 1928, and now does duty as a furniture van.
In 1921, the popular Bolton-Blackpool daily service was commenced, and, later, Mr. Christy purchased two Lancia 20seaters. In 1927, he branched out into the private-hire business, using an Austin six-seater for the work. In this year, Mr. Christy inaugurated day tours from Bolton to Gretna Green, with much success.
In 1929, two Leyland Tiger vehicles were acquired, and the Lancia coaches
were modernized. This resulted in a considerable increase in business, so that a central office at Victoria Square was established. A feature of Mr. Christy's undertaking is the operation of a special theatre service to Manchester, which Is as commenced in, 1929. The cost of the ticket includes the price of admission to theatres and other entertainments. We are told that as many AS 200 people have been conveyed to Manchester in an evening.
In 1930, two more Leyland Tiger coaches were purchased, and Mr. Christy's Blackpool service was commenced to operate three times daily all the year round. During each of the following years, two further Leyland Tigers were bought, increasing Mr. Christy's fleet to eight vehicles, all now being of Leyland make.
Resorts covered by this operator's services include Torquay, Bournemouth and Scarborough, whilst he is also a booking agent for services to London, Glasgow, Nottingham, Sheffield, etc.