A Three-wheeled Truck
30th September 1932
Page 57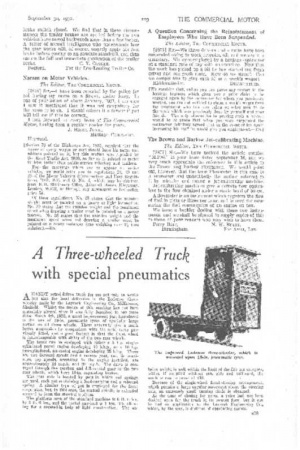 Page 57, 30th September 1932 —
A Three-wheeled Truck
Close
with special pneumatics
AHANDY petrol-drivert truck for use not only in works but also for local deliveries is the Lodemor threewheeler made by the Laycock Engineering Co., Millhouses, Sheffield. Whilst the design of this machine has not hieen materially altered since it was fully described in our issue dated March 4th, 1930, a great improvement just introduced is the use of 18-in, pneumatic tyres of specially large section on all three wheels. These naturally give a much better suspension by comparison with the solid tyres previously fitted, and a good feature is that the front wheel is interchangeable with either of the two rear wheels.
The truck can be equipped with either a 5 h.p. singlecylindered petrol engine developing 10 b.h.p., or a 10 h.p. two-cylindered, air-cooled engine developing 25 b.h.p. There -are two forward speeds and a reverse gear, and the maximum top speeds, according to the engine installed, are approximately 14 m.p.h. and 20 m.p.h. The drive is conveyed through the gearbox and differential gear to the two rear wheels, which have 10-in, expanding brakes.
The rear axle is located by pots in which coil springs are used, each pot containing a load-carrying and a rebound spring. A similar type of pot is employed for the front suspension, but, in this case, the central spindle is extended upward to form the steering medium.
The platform area of the standard machine is 6 ft. 6 ins. by 3 ft. 6 inn, and the useful pay-load is 1 ton, this allowing for a covered-in body of light construction. The un laden weight is well within the limit of the 115 tax category, whilst if supplied withiut cab, side and tailboard, the machine can be taxed at 110.
Because of the single-wheel front-steering arrangement, which permits a large angular movement about the steering axis, an extremely small turning circle is obtained.
At the time of closing for press, a price had not been decided upon for the truck in its newest form, but it can be had on application to the Layeock Engineering Co., which, by the way, is desirous of appointing agents.