Changing from Coil to Magneto Ignition
30th September 1932
Page 53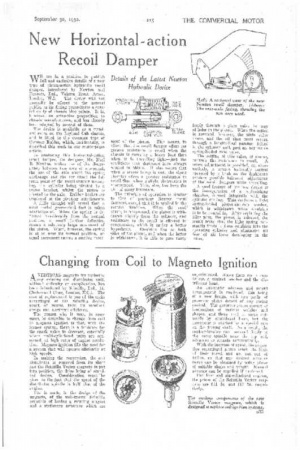 Page 53, 30th September 1932 —
Changing from Coil to Magneto Ignition
Close
AVERTICA.L magneto for replacing any existing coil distributor unit, without difficulty or complication, has been introduced by Scintilla, Ltd., 14, Clerkenwell Close, London, E.C.1. The ease of replacement is one of the main advantages of the Scintilla device, apart, of course, from its excellent design and electrical efficiency.
The reason why it may, in some cases, be desirable to change from coil to magneto ignition is that, with the former system, there is a tendenek for the spark value to decrease, especially where multi-cylindered units are concerned. at high rates of engine revolution. Magneto ignition fills the need for a system that will operate efficiently at high speeds.
In making the conversion, the coil distributor is removed from its shalt and the Scintilla Vertex magneto is put into position, the drive being of standard design. Consideration must 'be given to the fact that the speed of the distributor spindle is half that of the engine.
Use is made, in the design of the magneto, of the well-known Scintilla principle of having a rotating magnet and a stationary armature which are
superimposed. Above them are a eondenser, a contact breaker and the distributor head.
An automatic advance and retard arrangement is employed, this being of a new design, with two packs of governor plates devoid of any spring control. The governor plates consist of laminations of various weights and shapes, and these tend to move outwards by centrifugal force, but the movement is checked by a special cam on the driving shaft. As a result, the contact-breaker earn secured firmly to the rotor spindle near the top end, advances or retards automatically.
With the increase of E peed, the respective centrifugal plates reach the limit of their traveL and are put out of action, so that any desired advance curve can be obtained by using plates of suitable shape and weight. Manual advance can be supplied if preferred.
For four and six-cylindered engines, the prices of the Scintilla Vertex magneto are £11 Ss. and In 5s. respectively.