British commercial Mahoganies
30th September 1932
Page 49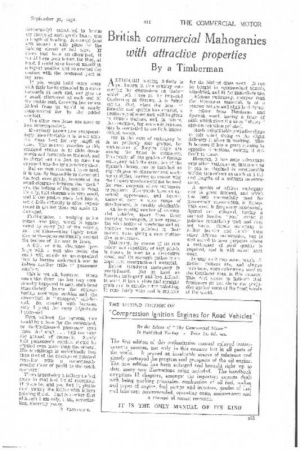 Page 49, 30th September 1932 —
British commercial Mahoganies
Close
with attractive properties
By a Timberman
A LTHOUGII nothing definite is ii.yet known in this country concerning the discussions on timber which took place at the Imperial Conference at Ottawa, it is fairly certain that, when the haze of formulie and quotas has cleared, a preference of some sort will be given to British timbers, and, in future, the consumer, for economic reasons, may be compelled to use little-known British woods.
But in the case of mahogany he is on perfectly safe ground, for mahoganies of Empire origin are among the finest in commerce. Practically all the grades of foreign mahogany, with the exception of the Spanish classes, can be matched as regards general character and working qualities, leaving no reason why the Empire woods should not be used for most purposes where mahogany is required. The woods have an excellent appearance, and figured material, over a wide range of development, is readily obtainable.
An increasing number of commercial vehicles, apart from those carrying passengers, is now appearing with bodies of handsome and attractive woods polished in their natural state, giving a most distinctive appearance.
Mahogany, by reason of its rich colour and capability of high polish, is second to none as a decorative wood, and its strength makes it an important constructional material.
British Honduras mahogany is world-famed. Not so hard as Spanish mahogany and less difficult to work, it has a close and straight grain and is excellent for polishing. It runs fairly wide and is suitable for the highest class work. It can be bought in square-edged boards, kiln-dried, and fit for immediate use.
African mahogany, cheaper than the Honduras material, is of a coarser nature and slightly different in colour from Honduras and Spanish wood, having a tinge of pink, which gives it a more " showy " appearance when polished.
Much unjustifiable prejudice clings to this wood, owing to the slight difficulty it gives in working. This is because it has a grain running in opposite directions, making it difficult to plane.
However, it has some advantage over other mahoganies, inasmuch as it can be obtained in considerable widths (sometimes as much as 4 ft.) and lengths of a uniform measurement.
A species of African mahogany now. in great demand, and which has been successfully used for motor-body construction, is Sapele. This wood is frequently handsomely figured and coloured, having a marked banded "roe," whilst it polishes remarkably well and does not warp. Sapele mahogany is rather heavier and harder than other African mahoganies, but is well suited to most purposes where a mahogany of good quality is required, and it will stand hard wear.
Strange as it may seem, nearly all British timbers are, and always have been, more extensively used on the Continent than in this country. This fact seems to indicate that foreigners do not share our prejudice against some of the finest woods of the world.